Spring is in the air and the sun is out! In Ireland and the United Kingdom we are just weeks away from the kid's Easter holidays and parents across the land are booking leave and planning vacation. But company annual leave isn't the only days off we have to look forward to. There is also our 9 annual bank holidays to plan for.
Here in HRLocker we know how important it is to kick back and relax (preferably by the beach down the road) wherever takes your fancy on a lovely extended weekend! That is why we have compiled these handy calendars that lay out all the holidays for the years 2019 and 2020 and also their dates for Ireland and the UK.
Our software HRLocker allows easy staff holiday planning and smooth processing of time-off requests and approvals. HRLocker also allows you to select appropriate public holidays in several counties worldwide when setting up new offices or departments Employee Management Software FAQs
Here's our HRLocker Bank Holiday Calendars for 2019 and 2020 for the United Kingdom (U.K.) and Republic of Ireland (ROI) including specific public holidays unique to Northern Ireland & Scotland.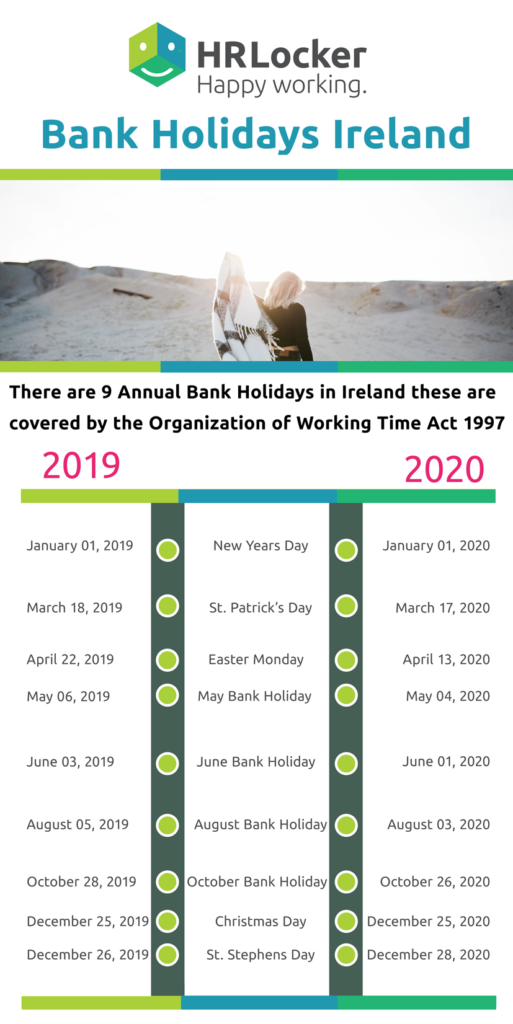 In the United Kingdom there are several holidays that all parts celebrate but Scotland and Northern Ireland also have their own national holidays as well.
U.K. Public Holidays vary, England and Wales have 8 public holidays, Scotland has 9 and Northern Ireland has 10.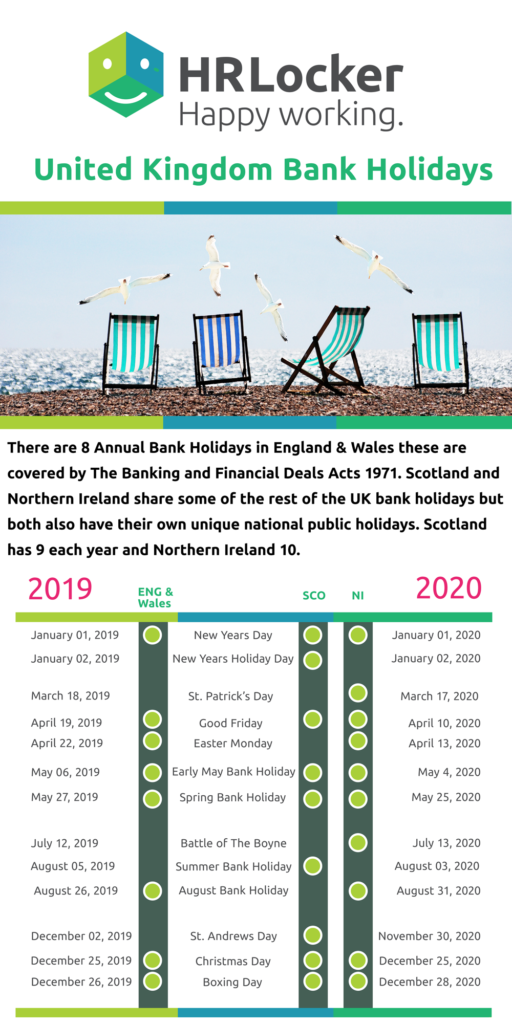 Need help sorting out annual leave? Use our Holiday entitlement calculator. Our time on & time off tools are here to help you run your business with less hassle! Now its time to get surfing!
Want to ask a question or need help with your annual leave?
BOOK A CALL
HRLocker was built by People Management professionals and offers FREE impartial advice on Human Resources management issues
14 day FREE Trial- no credit card required!