---
---

---
Managing annual leave and holidays for your people can be a fulltime job. HRLocker's Time Off module allows you to manage all holidays and annual leave for each office, department, team and individual easily and quickly. Assign your managers as approvers for your teams and automate the process of booking time off for your entire company. You can create all statutory leave types and also create custom leave types like "study leave" or "medical appointment" and enable the process of booking time off for your people simple, centralised and effortless.
HRLocker can cater to recurring annual leave which is extremely useful for those who need to book any type of leave on a recurring basis. You can make manual adjustments to people's leave balances and ensure they have the right leave due to them. Time off in lieu is easily and seamlessly ayutomatically calculated in HRLocker and people can book their time back against it.
HRLocker's Time Off functionality is a true solution for managing your company sick leave. Sick leave can be added to employee accounts and your people can even upload sick certificates to HRLocker so that you can centralise and store all relevant documentation for the future. All annual leave and leave types, including sick certs can be downloaded from HRLocker for your analysis and even exported for further reporting.

Speak to us about implementing HRLocker in your company.
---
Manage Annual Leave and Holidays
HRLocker allows you to manage annual leave across your company. Your team is enabled to request leave in HRLocker and you can allow managers to approve or reject holiday requests. HRLocker will also calculate annual leave accrual automatically.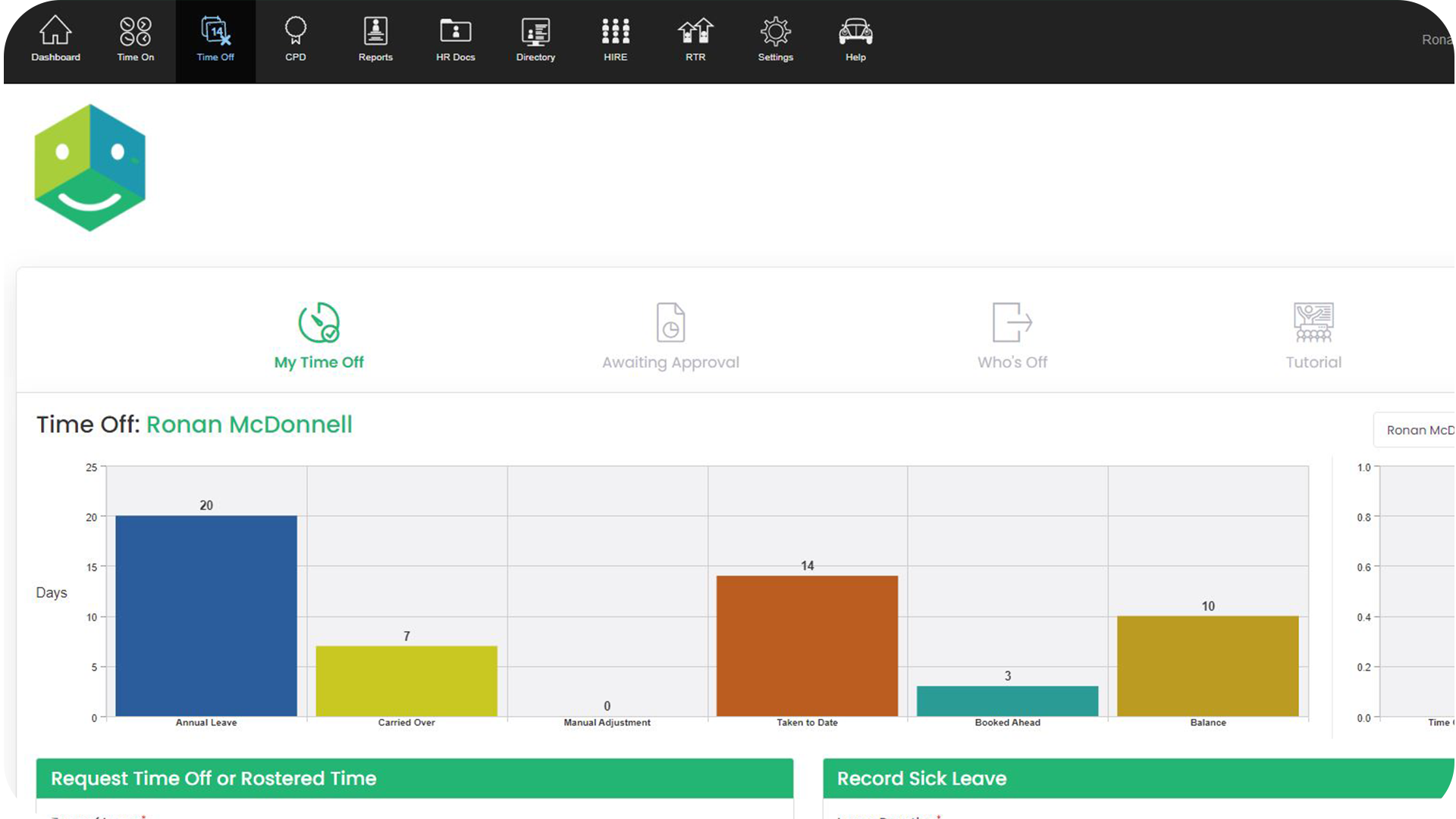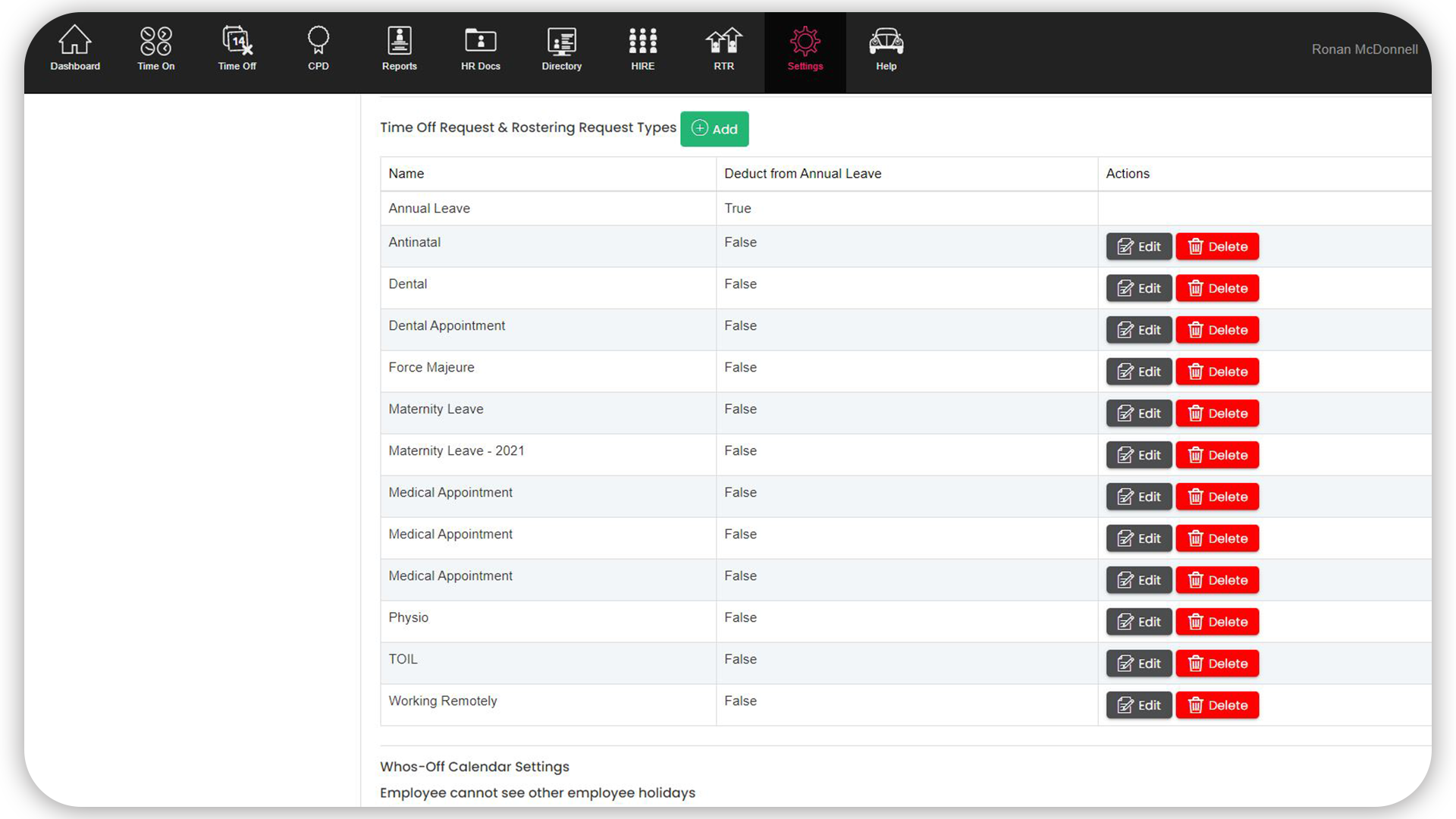 ---
Create custom leave types
Statutory leave types come stock with HRLocker. However, you can get as creative as you like by adding custom leave types. "Study Leave", "Seminar Day", "Personal Development Day" - the list is endless on what you can create and the rules you can set like whether or not a custom leave day is deducted from a person's leave balance, or whether the leave type is private meaning that it will not appear in the company calendar with its title showing. Create unlimited leave types to empower your people.
---
HRLocker has developed an end to end leave management software but to add the cherry on top have recently enabled recurring leave requests. Taking parental leave every Friday for the next couple of months? Set up a recurring request to save the time and hassle involved in setting up each day individually. Your managers can then approve all on individual days requested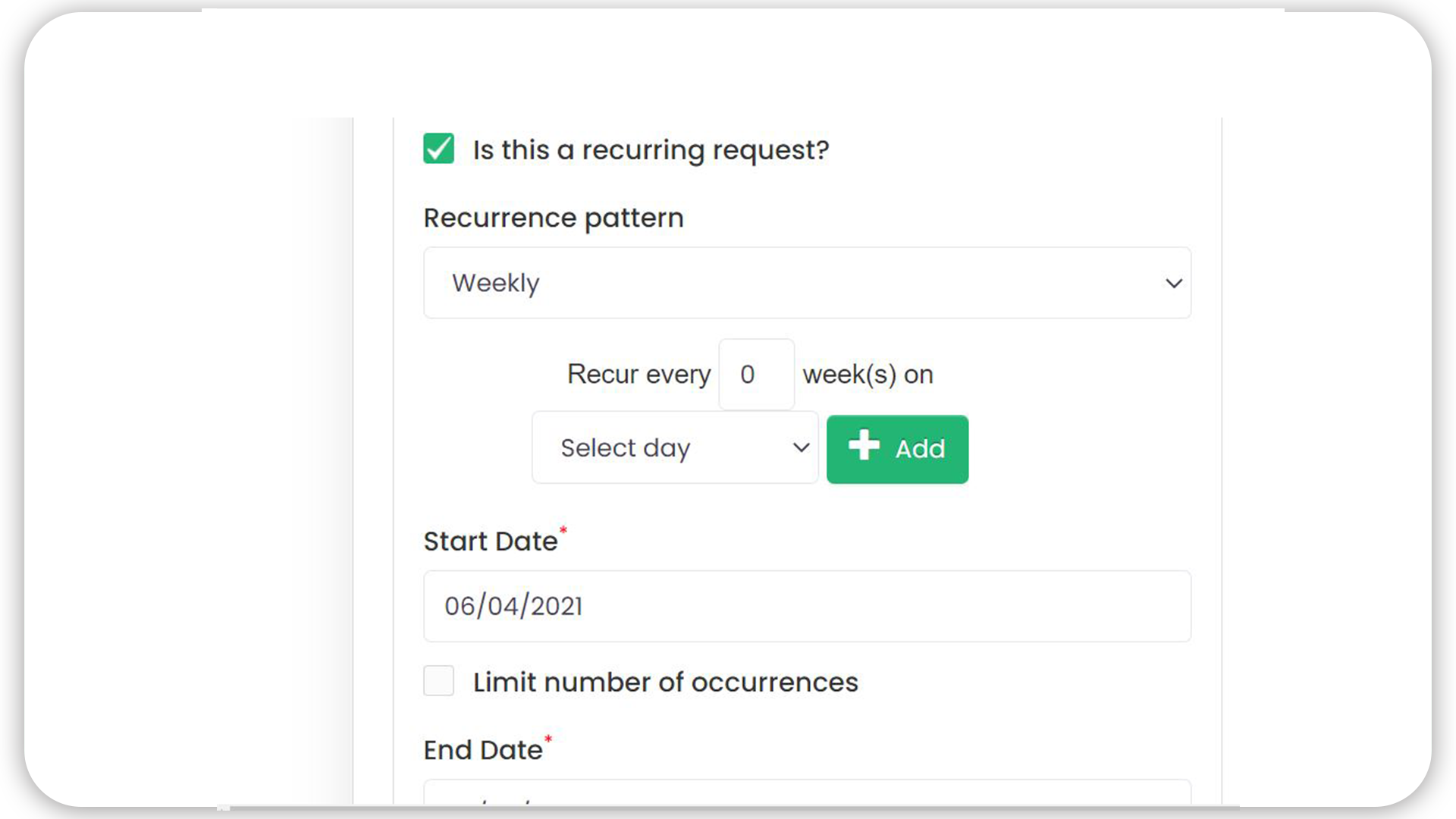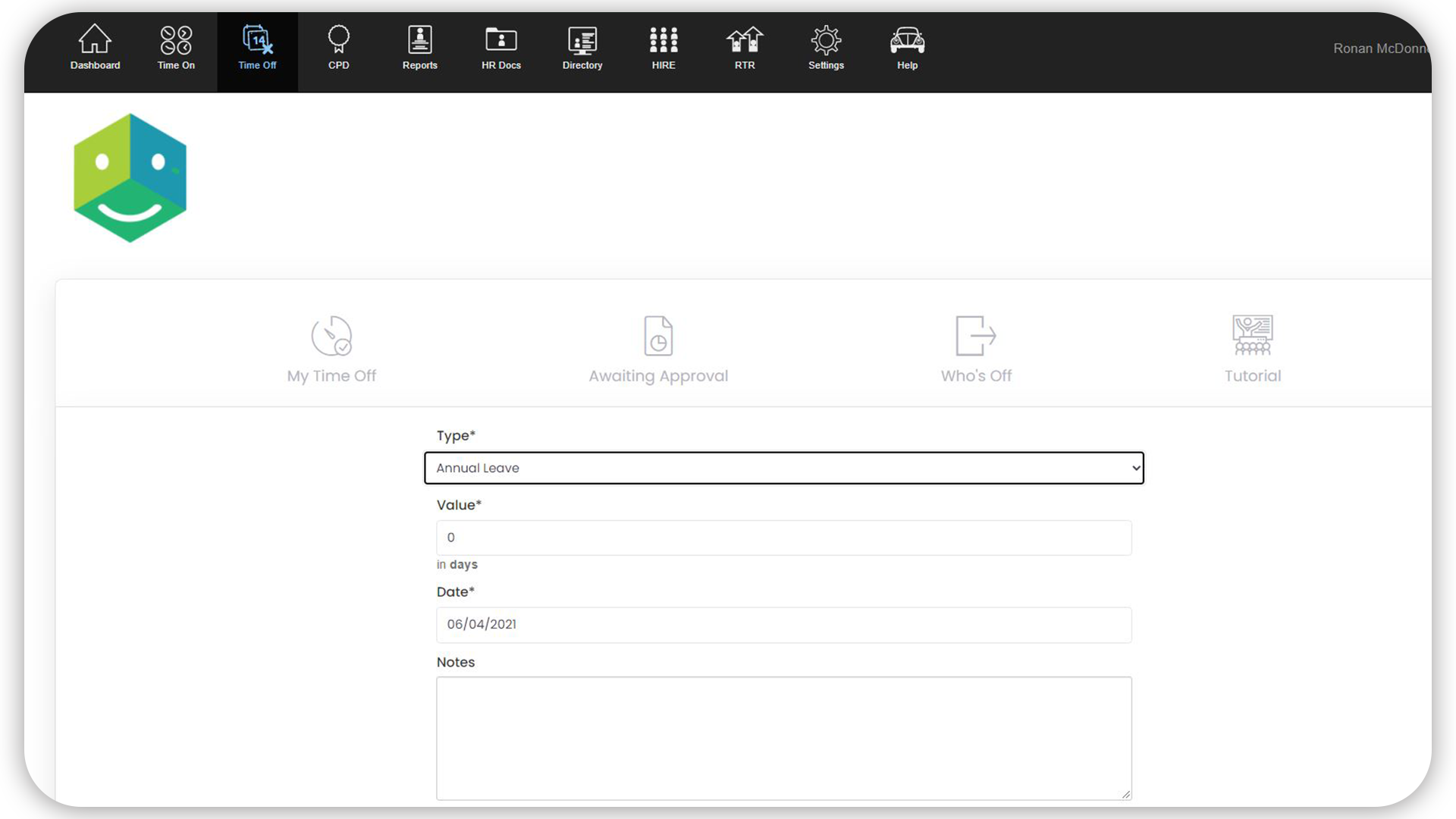 ---
Every now and then it may be neccessary to add or reduce a number of days. Rather than having to seek support or wait for a change to occur, HRLocker have given you the power to make manual adjustments to your teams leave balances. You will be enabled to fully manage your company leave end to end and at a very specific and granular level.
---
Log all sick leave in HRLocker simply and easily by enabling your managers and employees to note their or their teams sick leave. Enable your staff to upload their own sick certificates for validation and leave notes that may be relevant to the leave. Store everything safely and securely in HRLocker and of course, all sick leave can be reported and analysed.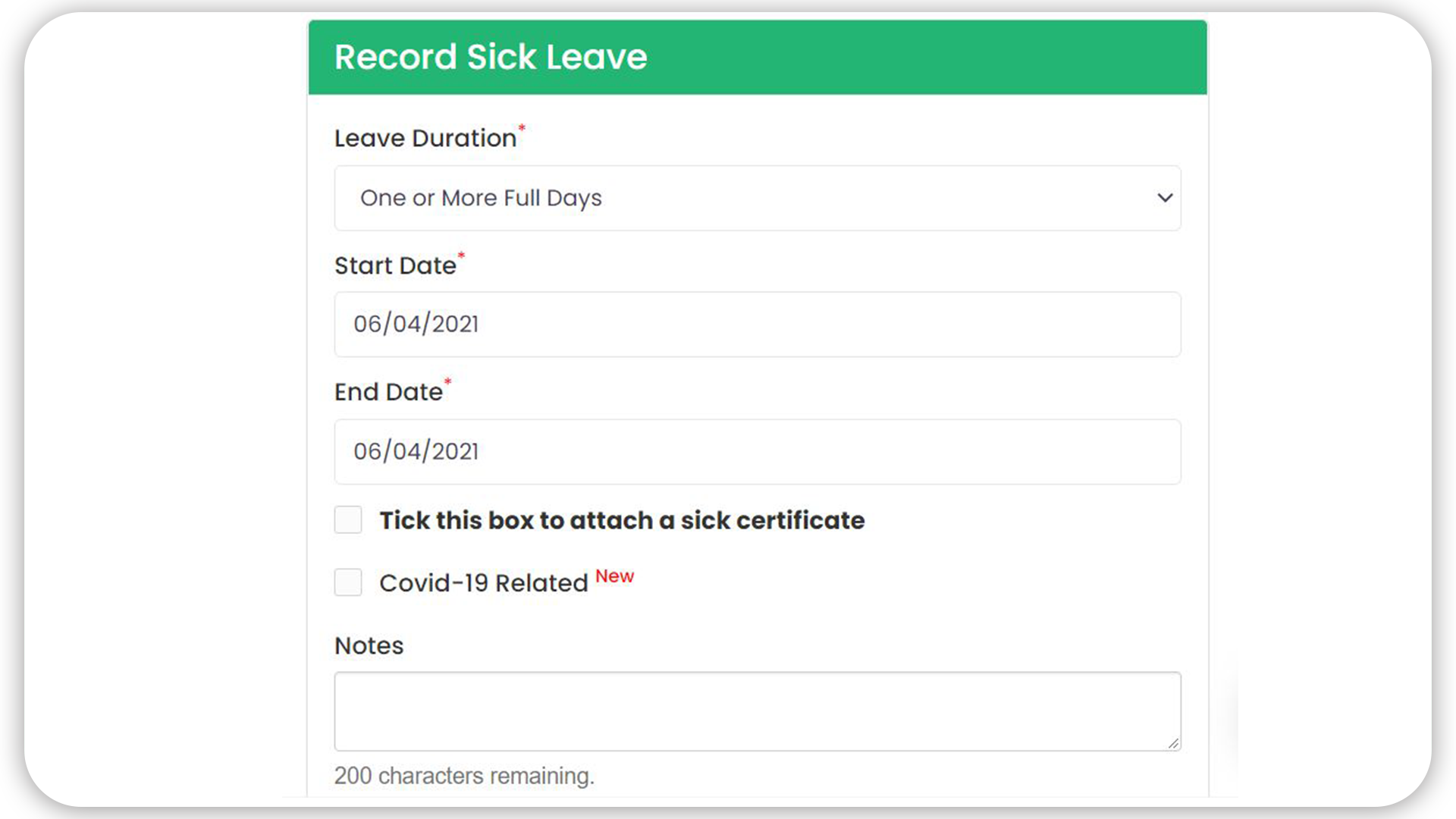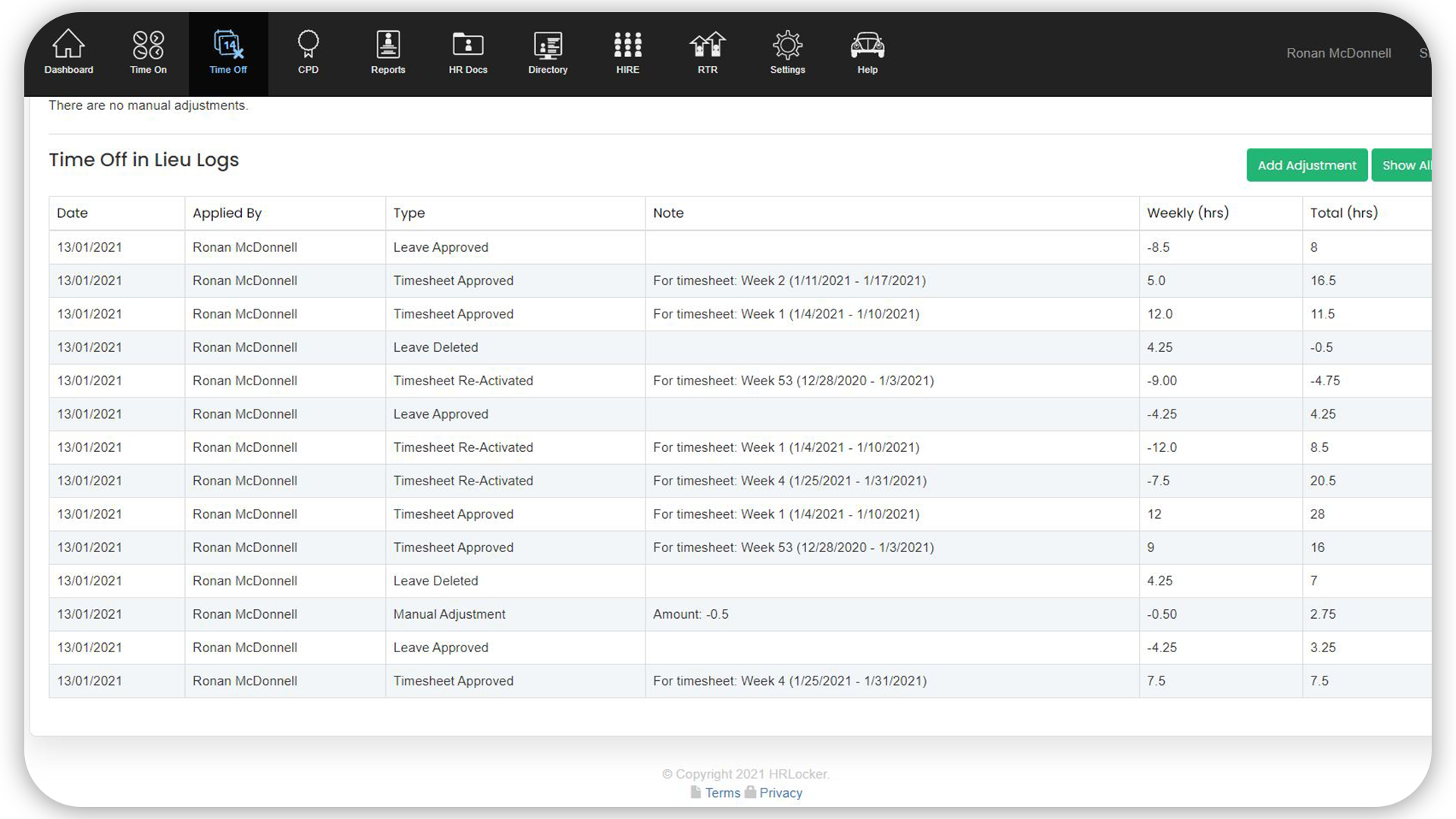 ---
Time Off In Lieu Software
Time Off In Lieu is a huge issue in terms of time management. HRLocker will relieve all of the hours spent calculating TOIL. Allow HRLocker to automate your Time Off In Lieu allocation by automating the whole process.
---
Automatic National Holidays
HRLocker will import all national holidays for your offices anywhere in the world. Not only that, you can add more company days off at your leisure and have them set to deduct from your people's leave balances or not. All holidays will block time in your company calendar and prevent any confusion or mix ups with your staff who may want to book leave on those days.
---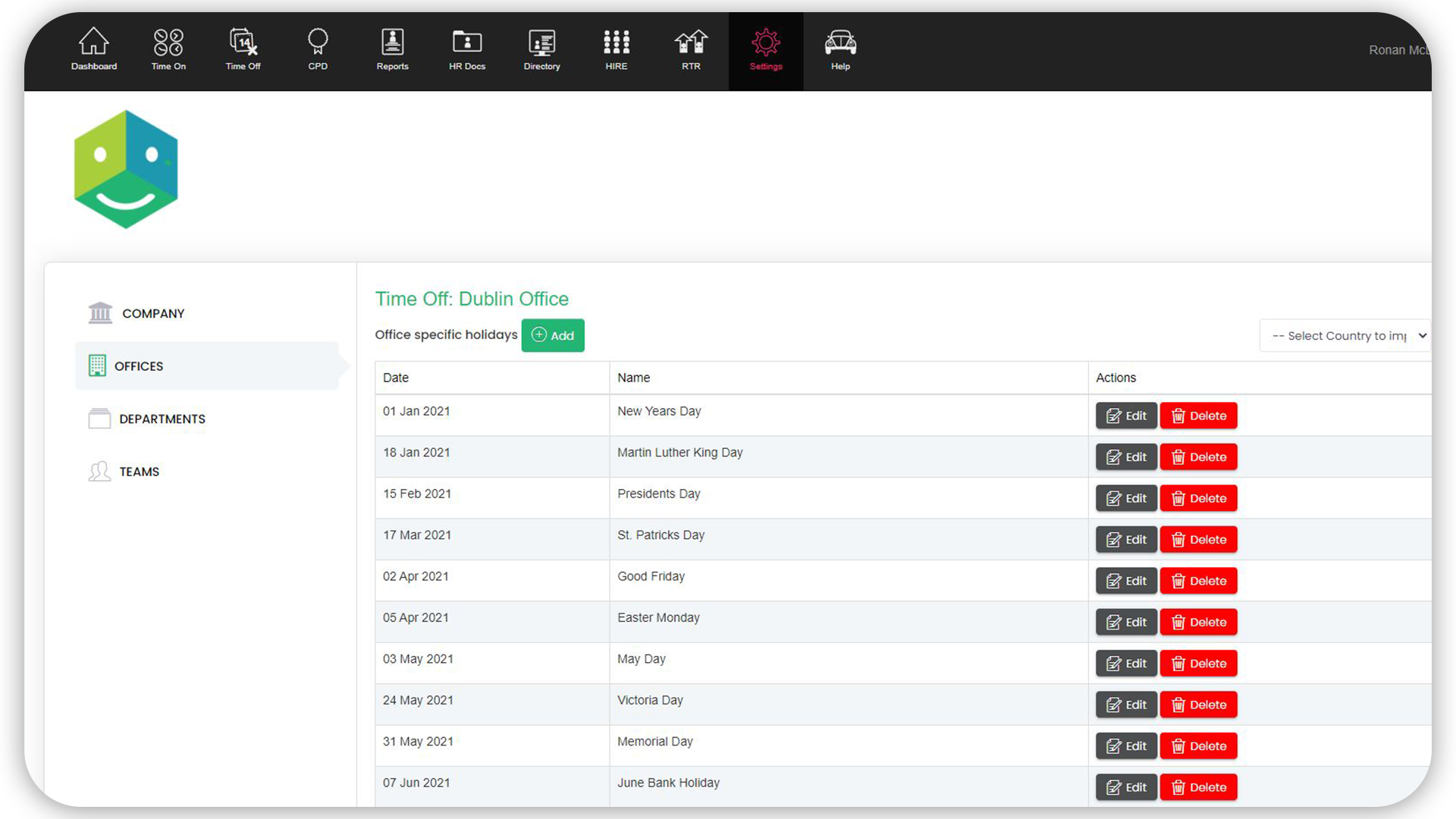 You can enable your workforce to fill out timesheets manually or you can enable clock in and clock out for your people.
Manage all holidays and annual leave for each office, department, team and individual easily and quickly.
Enable Time Off In Lieu for specific teams or people and let HRLocker calculate all TOIL automatically.
Allow employees to clock in and out using their phones, PC's or even on premise using our clock in tablets.
For those working offsite or employees who work out on the field, you can enable GPS tracking at the point of clock in and clock out.
Manage the sick leave process entirely and even enable employees to upload sick certs.
Create projects, assign them to employees and track how much time is going towards each project.
Access a full reporting suite to export information across all activities across you organisation.
Leave and Absence Management | Time Off & Annual Leave
was last modified:
June 30th, 2021
by