Irish HR technology firm, HRLocker, expects strong growth over the next 12 months on the back of significant investments made in the past year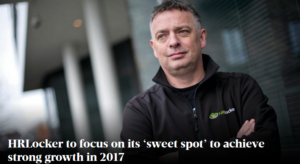 HRLocker currently operates across 44 different countries, with customers such as BrownBag Films, Ibec, Trustev, Adaptive Mobile, Business in the Community, Malta Services, Ryanair and eShopWorld automating thousands of requests and submissions.
"We don't sell an HR solution. For there to be an HR solution there must be an HR problem. There is no such thing as HR problems; only people management problems. In traditional business, HR issues are dealt with by an HR department but this is just wrong. HR problems exist where managers fail to manage, " said Adam Coleman, founder of HRLocker, the platform that automates many of the business administration problems associated with people management and HR, from holiday and absence management and applicant tracking to compliance tasks.
Earlier this year, the company was invited to the Manchester Entrepreneurial Spark Programme. Sponsored by RBS, KPMG, EMC and Pinson Mason, the programme identifies high-potential start-ups, with the ability to grow and deliver sustainable social change to the way organisation do business.
"The company is growing strongly, taking on 10 or more new clients every month. Our priority, for now, is ensuring we don't overextend ourselves. Anyone who's ever scaled a business before can tell you that it demands a lot of cash. " said Coleman.
"Our plan is to focus on our sweet spot. HRLocker is built specifically for progressive tech, professional services and not-for-profit companies only. While we can cater for bigger companies, we are focused on companies that have between five and 500 employees as they make decisions quicker.
"The programme has made our investment ready, but it has also helped us realise the importance of taking on the right investor at the right time and not just chasing the money."