What is Digital Maturity?
A company's digital maturity stage reflects how likely they are to thrive and succeed when undergoing a digital transformation. It illustrates how agile the company is and whether or not they are listening to the needs and wants of its customers.
Why is it important?
"We must change just to stay the same."
As stated above, digital maturity is used to measure how a company will react when they are allowed to advance or is forced to change. Following the COVID-19 pandemic, most companies had to make adjustments and changes simply just to survive. In fact, according to Celerity, 63% of leaders have said that they underwent a digital transformation sooner than expected due to the COVID-19 pandemic. Being aware of your company's digital maturity scale is the first step, and working on keeping your company up-to-date is vital to help your organisation react faster and better to any digital transformation, thus providing your business with an advantage over those who don't.
Why is HR so important?
Agility is key to any business in the modern world, making sure your workforce is agile and can adapt to anything the market throws at them will show who is prepared to succeed and who isn't. Your HR team plays an important role in this, not only is the HR department expected to introduce new strategies, such as automation into its data and processes but also plays a key role in leading the transformation by helping employees make the necessary changes required to lead the company to success.
How can I measure my company's digital maturity?
We at HRLocker understand how difficult it can be to keep up with the current market, so we have created a quick survey to help you better understand where your company is at in terms of your digital maturity level. Click the link below to find out your Digital Maturity Level: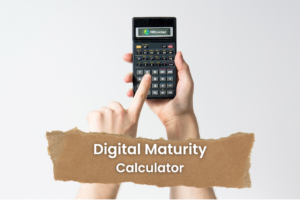 I have measured my company's digital maturity, what should I do next?
To help your business thrive, you must always have strategies in place to maintain your competitive advantage. Introducing HR software such as HRLocker will help your business save more time by removing the hassle of essential HR tasks; to focus on achieving your company's long-term goals. Relieving your HR department of mundane tasks will allow for more time to focus on reaching goals and preparing employees for any changes or transformations that may be occurring.
Depending on who you ask, there are different ways to quantify where a company is at in terms of its level of digital transformation. We have decided to measure the different levels based on the research conducted by Paradigma, a company whose main focus is to help other companies with their digital transformation. These four levels to digital maturity, Beginner, Intermediate, Advanced and Expert. Determining your company's level is vital in order to succeed in undergoing a digital transformation, planned or unplanned.
Beginner
A company that scores in the beginner category may not believe they need to think about its digital maturity level. And in some rare cases, this may be true, however, in most cases this is unlikely. If the company has any competitors, it needs to be constantly thinking about the future. Modernising, strategising and upgrading your business to keep it ahead of the game is one of the main objectives of digital maturity. Listening to your customers and considering what they want from you is important, it's also a cheaper starting point!
Intermediate
An intermediate level of digital maturity means the company has begun taking their first steps, they might not even have realised they have started the journey towards digital transformation yet. However similarly to the beginner level, they also have much to do in terms of achieving expert status. Assessing your digital maturity strengths and weaknesses is the first step, then you need to begin strategizing to strengthen your weak spots.
Advanced
You're almost there! Companies at the advanced level have made the effort to implement several digital channels across all departments. These companies will require less time to assess their strengths and weaknesses, ensuring the customers are being listened to and their needs are being met is a great way to reach that expert level.
Expert
Your company has worked hard to achieve the expert level of digital maturity, any digital transformation events that come your way should be met with ease due to your agility and self-reflection. It is important to remember that technology is always changing and that maintaining this expert level is just as important as achieving it!
Enquire about using HRLocker in your organisation in 2022