---
When it comes to timesheet software, HRLocker allows you to configure your staff timesheets exactly how you want them. Have some staff fill out their timesheets easily and quickly and set other teams to clock in and out if they are required to keep time in this manner. HRLocker has a clock in and clock out application available on Android and iOS or people can simply clock in using HRLocker on their desktop or anywhere they can access a browser.
Eliminate using spreadsheets to track your team's attendance from now on. Your people can track their own time and submit their spreadsheets to you and their managers for appraisal and approval. No more wading through countless manual timesheets. Simply export your timesheet data at the end of the week, month, quarter or year. HRLocker's Timesheet HR software allows you to meet your timekeeping compliance obligations.
---
---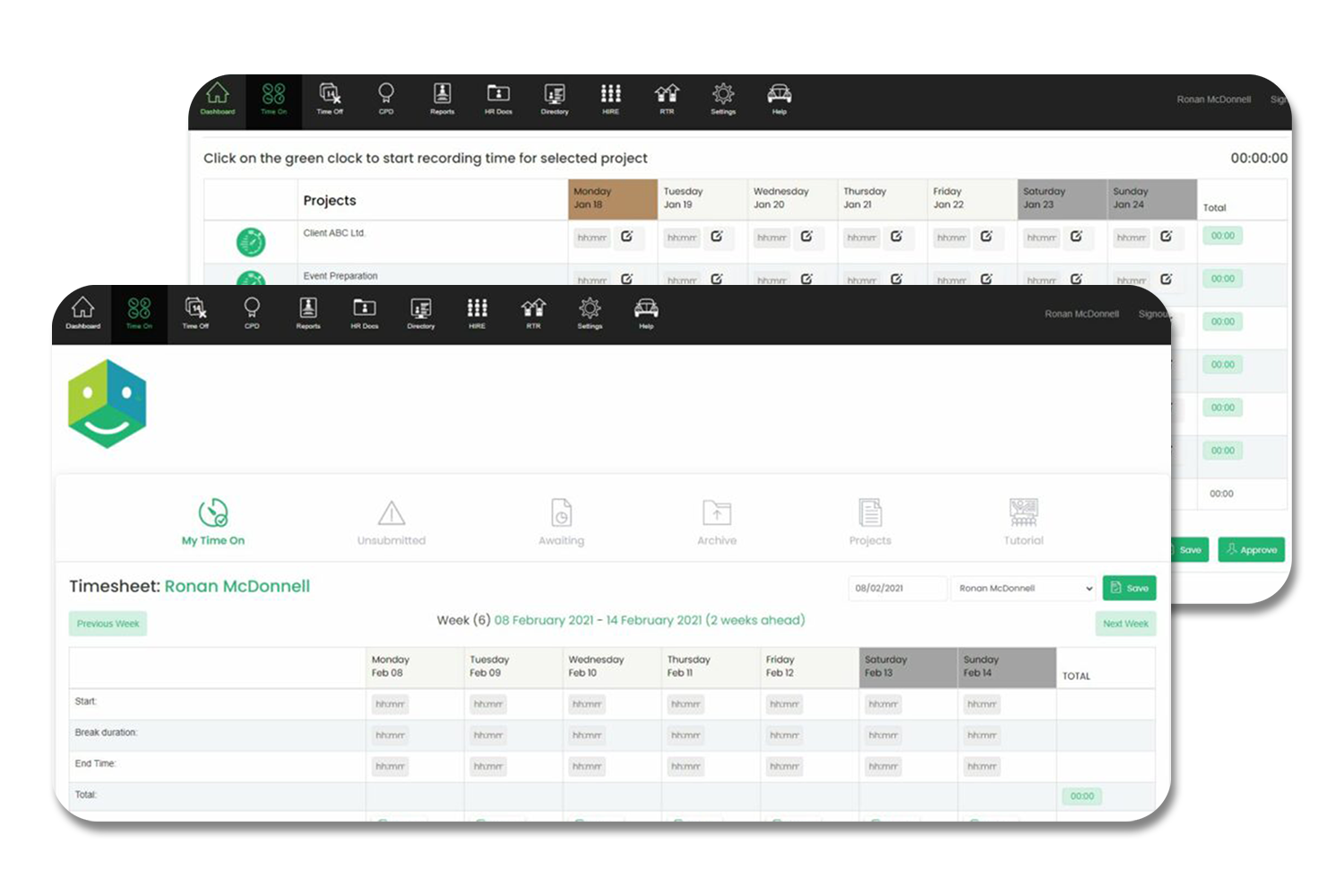 ---
Keep track of your employees annual leave and allow them to request leave at their own discretion. HRLocker will alert appropriate managers to approve or reject leave requests. HRLocker can cater to all leave types and they are completely customisable so get as creative as you like!
Allow employees and managers to log sick leave and upload sick certificates to HRLocker. Enable your HR function to go paperless and track all sick leave. HRLocker allows you to report on all leave types and sick leave.
Performance Management - Real Time Reviews
Give your company a way to schedule, customize, record and manage your performance review process.
Build, create and customise your own performance appraisals using HRLocker's Performance Management software. We call it Real Time Reviews or RTR for short. Allow managers to create and invite their team members to performance management sessions. Select the duration, the date, the time and even create the meeting types. You can synchronize your calendars to Real Time Reviews easily so that all meetings and performance appraisals automatically and seamlessly allot time in your calendar.
Attach files to employee records and save all performance reviews inside HRLocker for safe storage and analysis of your company's performance. Track and report on what means the most to you. Enter your company behaviours and principles and measure your people against them using metrics and score sentiments that you create and set out.Get Employees involved with real time feedback able to record their viewpoint.
You can also allow employees to request reviews. There is also functionality to enable recurring meetings or once off performance management calls.You can easily monitor and report on performance reviews, frequency, sentiment and time to complete reviews available.
---
CPD & Training Management
---
Our Continuous Professional Development feature also known as CPD ensures you never let an employee's training certification expire again. Fully automate your company and staff training. You can create training items and assign them by office, department, team or even individual. Appropriate employees will be alerted and go about their CPD and training items with full instruction. Staff can upload their training records and also their certificates to HRLocker where a manager can then validate. From there, HRLocker enables automatic reminders and emails before training items and certificates expire. CPD relieves the workload that goes along with managing the training element in your company.
Employees can also be enabled to request training. You can yield some interesting results from the forms that employees fill out to request training.
Whether your employees are required to have certification or simply complete a course as a part of their work, you have the facility to record this training and allow the employee to upload their own certificate for you to validate.
Keep morale and employee satisfaction levels high with agreed CPD plans. The CPD module settings also allows you to both send out training needs requests to your staff - for carrying out a skills gap or training needs analysis. HRLocker will overhaul and improve your training record system with its easy and user friendly interface.
---
HRLocker allows you to report and analyse everything in your organization. You can easily find the information that you need. Create, display and download reports across all modules, all offices, departments or even teams and individual employees across so many activities.
HRLocker provides a full end to end reporting suite on peoples leave, sickness and absence means that you will always have up to date and accurate data on your team and organisations leave.
You can also report on all leave types be it statutory or custom leave types. You can choose from a list of pre-made reports under each module or create reports from scratch by using filters like timeframe or part of the business.
You can segment your reporting via office, department, team or individual and also you can assign and enable managers specific permissions to download reports for their teams.
Export information on timesheets by downloading pre-configured timesheets reports. Simply filter your data and receive information from HRLocker that is as granular or as broad as you require. Information like this makes it easy and seamless to export data for payroll.
HRLocker allows you to report on company headcount and also staff benefits. It can also produce organisation structure reports and charts.
---
---
Manage compensation easily and systematically within your core HRLocker service.
Our 'Comps & Bens' module is an integrated compensation management service. Our customers asked for an easy-to-use, scalable, compensation and benefits software solution that allows employers to assign and track employee benefits across their organisation.
Easy set up Comps & Bens by Managers or Administrators
Manage Benefits by either Office, Department or Employee
Easily generate reports
Asset Management tracking
Assign bonus details per individual employee
---
Hiring - Applicant Tracking System
---
HireLocker is a full recruitment management system which allows you to manage the entire recruitment process in one central location. It seamlessly integrates with HRLocker and with your website, job boards and social media.
One central location for all applications
Manage the recruitment process
Powerful candidate search feature
Empowers social referral
Pre-screen candidates
Create your own careers page
Features
was last modified:
April 2nd, 2021
by