Click here to view Bank Holidays 2023
Republic of Ireland Bank Holidays 2022
Saturday, January 1 (New Year's Day)
Thursday, March 17 (St Patrick's Day)
Monday, April 18 (Easter Monday)
Monday, May 2 (May Bank Holiday)
Monday, June 6 (June Bank Holiday)
Monday, August 1 (August Bank Holiday)
Monday, October 31 (Halloween/October Bank Holiday)
Sunday, December 25 (Christmas Day)
Monday, December 26 (St Stephen's Day)
Is there an extra bank holiday in 2022?
It was proposed that an extra Bank Holiday should be put in place to recognise the sacrifices of frontline workers throughout the pandemic. St Brigid's Day on February 1 seemed preferred dates for the extra day off in recent weeks.
However, Leo Varadkar has since said that the special Bank Holiday will not happen on February 1 in 2022.
Varadkar indicated that in future years arrangements could be made for St Brigids' Day to be recognised as a day off.
Instead, it has emerged that there could be a double Bank Holiday around St Patrick's Day in March to recognise the key workers during Covid-19.
Is everyone entitled to Bank Holiday pay?
Full-time employees are entitled but it differs for part-time employees, part-timers only have entitlement when:
They've been employed with the business for

at least

40 hours, five weeks preceding the Bank Holiday.
The public holiday falls on a day they are normally rostered to work.
If you require an employee to work on a Bank Holiday they're entitled to have off, you must give them an extra day's pay, or,
If an employee isn't rostered to work on a Bank Holiday, they're entitled to one-fifth of their weekly pay as compensation.
Are employees entitled to double pay on Bank Holidays?
The Organisation of Working Time Act (Determination of Pay For Holidays) Regulations (SI 475/1997) governs Bank Holiday pay in Ireland. The Act doesn't specify that a 'double pay law' exists. Instead, if your employee works on a Bank Holiday, they should receive one of the alternative benefits previously mentioned.
Under the Protection of Employees (Temporary Agency Work) Act 2012, all temporary agency employees must receive equal treatment when it comes to certain conditions of employment, e.g., Bank Holiday entitlements. Irish employment laws provide employees with strong protections, so you should make sure you respect their rights.
Download our FREE HRLocker wallchart with all of the upcoming Republic of Ireland Bank Holidays for 2022/2023 below.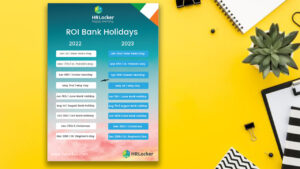 ---
UK & Northern Ireland Bank Holidays 2022
3 January, Monday (New Year's Day (substitute day)
15 April, Friday (Good Friday)
18 April, Monday (Easter Monday)
2 May, Monday (Early May bank holiday)
2 June, Thursday (Spring bank holiday)
3 June, Friday (Platinum Jubilee bank holiday)
29 August, Monday (Summer bank holiday)
26 December, (Monday Boxing Day)
27 December, (Tuesday Christmas Day (substitute day))
The UK can look forward to an extra bank holiday in 2022 courtesy of the Queen's Platinum Jubilee.
The UK is no stranger to bank holidays in the UK, with England enjoying eight of them each year including Christmas Day and Boxing Day.
Every so often, the nation is treated to an extra bank holiday to commemorate a landmark royal occasion, like Prince William and Kate's wedding in 2011. And 2022 is the next example of when the country can benefit from this exception: all thanks to Queen Elizabeth II and her incredible reign.
Next year's extra bank holiday will honour this historic anniversary and the Queen's birthday in one bumper weekend. The special occasion will see a change to the usual May Day bank holiday, to coincide with a series of nationwide events celebrating our Monarch.
The extra bank holiday in 2022 for the Queen's Platinum Jubilee is Friday 3 June.
The UK government department for Digital, Culture, Media and Sport (DCMS) has confirmed the extra public holiday will result in a long weekend in June 2022 to honour the Queen's special anniversary.
This will see the May Day Bank Holiday – usually held on the first Monday in May – moved to Thursday 2 June 2022. And this will complement the additional bank holiday on Friday, creating a four-day weekend for the occasion.
Download our FREE HRLocker wallchart with all of the upcoming UK & Northern Ireland Bank Holidays for 2022/2023 below.


Enquire about using HRLocker in your organisation in 2023
Book a Demo