As employees are urged back into the workplace, many women lack the same financial incentive as their male counterparts.
The gender pay gap isn't a new challenge, but a fresh strategy is needed to bridge the gap between men and women in the workplace.
Last month, the Gender Pay Gap Information Bill was passed in Ireland. This means from early 2022, businesses in Ireland will need to report on their organisation's pay gap, and where applicable, highlight the measures they'll be taking to reduce it.
This comes at a time when job vacancies are at a record high, and research has shown women faced the most financial disruption during the pandemic.
While the prospect of reporting this pay gap might seem intimidating to businesses that aren't familiar with such high levels of transparency, brands have the opportunity to attract more women to fairly compensated roles.
Before we look at what this means for businesses, here are the key points.
What you need to know
First things first: the gender pay gap isn't the same as equal pay. It's the difference between the average pay of men and women in a single organisation, irrespective of role or seniority. So, it follows that an organisation's gender pay gap can highlight whether women are making it to the boardroom or are limited to less senior roles.
For now, the ruling will apply to workplaces that have 250 employees or more, with the threshold lowering to 150 employers after 2 years, and 50 employees the consecutive year. While it's most pressing for larger organisations to tackle their gender pay gap, businesses of every size need to begin collating reports and designing strategies that tackle their unique pay gap.
Beyond reporting, businesses will need to produce a statement to justify any discrepancies in pay between men and women. The work doesn't end there: they'll also be required to set out a strategy that tackles these disparities. Put simply, this won't be a box-ticking exercise. What businesses choose to do about their pay gap will matter just as much as the identification of it.
Reporting and planning will require cross-departmental collaboration, with HR, finance, legal, comms, and executives each playing their own part. Businesses should be seeking out relevant stakeholders within the business right now, so they can plan their approach before the legislation comes into place.
Check out the Irish Times Article about gender pay disparities set to become a controversial topic in Ireland here.
Non-compliance could land businesses with high court orders. The Irish Human Rights Commission will oversee compliance, and, where businesses are non-compliant, refer to the High Court. Employees who feel their employers are demonstrating non-compliance can direct their complaints to the Workplace Relations Commission.
The business will need to share the mean and median of its gender pay gap. The mean is the difference between male and female rates of pay. To calculate the median, businesses compare the female middle earner with their male counterpart. In practice, this means if the majority of women are in lower-paid roles, they'll have a lower middle income than men, who populate senior leadership and executive boards.
What this means for business
While the message is serious, many businesses feel positive about the move towards greater transparency in Ireland. We surveyed 260 HR leaders as part of our Gender Pay Gap Report, and 46% identified greater employee retention as a result of regular gender pay gap reporting.
New rules on gender pay gap reporting in Ireland provide businesses with an opportunity to mitigate a range of biases in their hiring and HR practices. By incorporating progressive strategy and technology to reduce bias, they benefit from having the right talent for their teams.
In the coming months, HR teams should begin to collate their employee data so that analysts can provide comprehensive reports. This information is much easier to access when it's in a centralised database, such as an HR platform. Businesses can use these systems to investigate their gender bias and stay ahead of the curve, long before the report is due.
Looking to the future, businesses need to consider how their policies impact all genders. For example, women still take responsibility for the majority of household tasks and childcare. Just by implementing a comprehensive flexible working policy, businesses can improve conditions for female employees who may wish to work from home some of the time or adjust when they come into the office.
This is only one example, though
For companies to make effective strategy decisions on closing the pay gap, they need to have access to a breadth of current employee data. Regular and consistent analysis of the gender pay gap in any business is a must. This isn't a once-a-year activity.
Every day, employees quit their jobs, request new positions, and move laterally around the business. Without a live overview of employee data, companies will miss key diversity insights.
The reputational consequences of a gender pay bias in the workplace can be catastrophic to the hiring pipeline. If you knew you'd be less likely to achieve a high-paying role at a company, simply because of your gender, would you even apply in the first place?
Want to know more?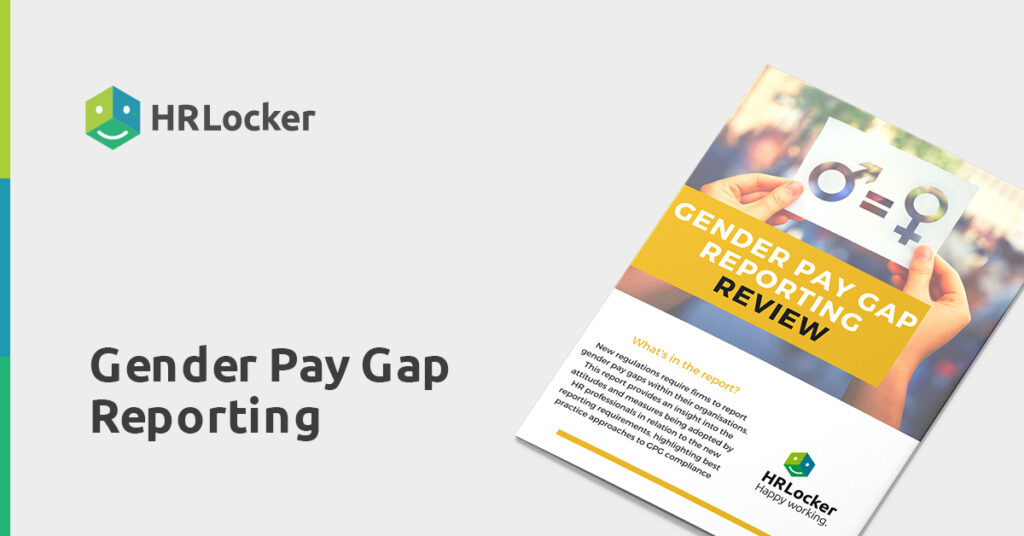 Click here to download our free Gender Pay gap Reporting Review. HRLocker has compiled the Gender Pay Gap Reporting Review. This report provides insight into the attitudes and measures being adopted by HR professionals in relation to the new reporting requirements, highlighting best practice approaches to GPG compliance.
Enquire about using HRLocker in your organisation in 2023
Book a Demo