With the new annual leave year starting for many companies in January, the start of the year can be a busy time for managers and HR people who are inundated with requests for staff Spring and Summer holidays. Combine this with nasty colds, flu, and viruses that are roaming about this time of year and it's a recipe for an HR headache!
Dealing with queries and requests can be time-consuming and stressful. In the case of a vacation or holiday request, there is the need to figure out what the employee is actually entitled to and this varies from country to country.
There is also the need to check and make sure that their being off won't affect the running of the business.
If you have a Holiday & absence management system like HRLocker in place you can easily track your employees' entitlements and monitor who is off and when.
Check out how HRLocker helps in this quick video.
With our handy and easy-to-use 'Who's Off' calendar it is possible to check and see who is booked off for particular days and make sure that there is enough staff in place to keep the doors open.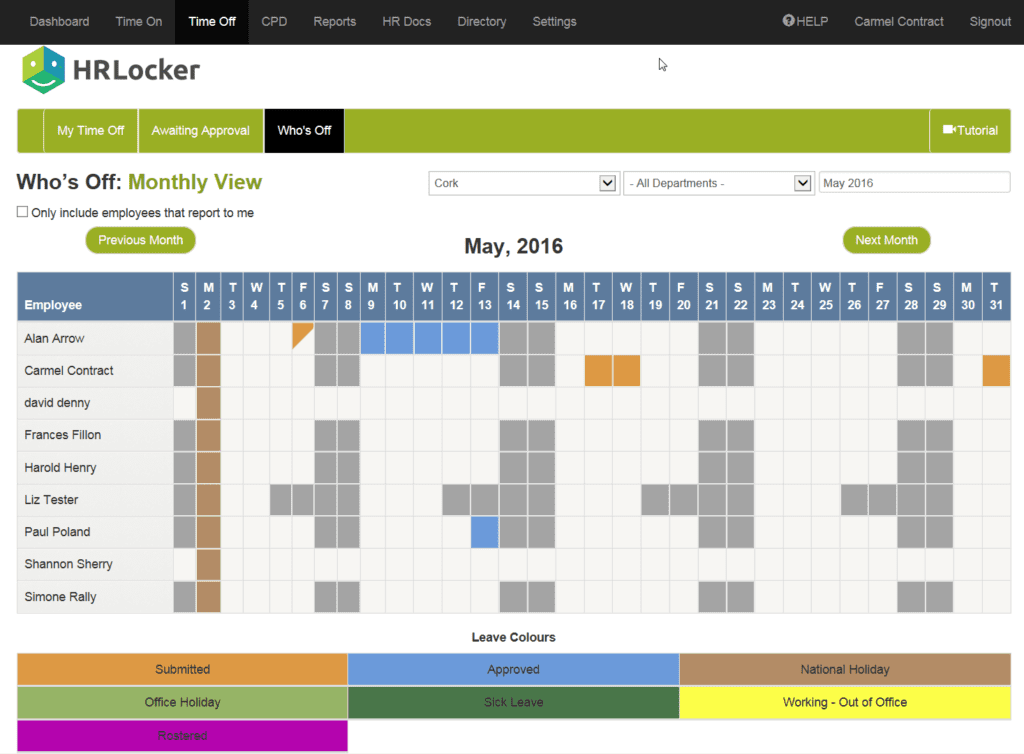 Have any of the employees in the office caught the weird virus making the rounds yet? If not count yourselves lucky as we have had half the office wiped out this year by some bug or another.
Dealing with employees being off sick is automated with HRLocker.
If an employee is unwell, they simply log into HRLocker, a record that they are sick and their manager receives a notification by email. HRLocker also allows you to monitor and keep track of who has been off, when and why.
With the New Years' annual leave allowance showing up on everyone's dashboard it seems like holiday fever takes place! Everybody I know is jetting off to somewhere lovely and sunny.
For those on your staff that want to work out just what they are entitled to, they can use our handy Holiday calculator.
Don't forget there is something to be said for a staycation as well! Last summer it was like the Costa del Burren down here in West Clare. Here in the HRLocker office, we were considering pushing to see if this remote working thing could stretch to a day at the beach. But surfing isn't exactly laptop friendly so we had to just make do with the fabulous view of the sea from the office and lunch breaks eating ice cream sitting on Lahinch promenade.
Fingers crossed we get a fab summer again so we can use up all those exciting leave days sitting in the sun!
Enquire about using HRLocker in your organisation in 2023
Book a Demo