What is an Employee Handbook?
An employee handbook is a guide given by employers to all staff members when hired into the company. It details company policy, work culture and anything else an employee would need to know to successfully onboard into their new environment. The handbook is given to employees on or before the first day of work so that the employee can adapt to the company quickly. The employee handbook serves as a reference tool for employees to help them with everyday issues and can also prove beneficial in helping an employee settle into their new role. It's a great way to introduce your new people to your company culture and It should also include the company disciplinary and grievance procedures, policies on bullying and harassment, and company policies in respect of sickness, annual leave and probationary periods.
What should an Employee Handbook include?
An employee handbook should be customised to each specific company, but generally, they contain the following:
Company policies
Company culture
Legal policies
Company grievance policy
Benefits information
Dress code
Company procedures
HR information
Company mission statement and values
Employee rights
How to create an Employee Handbook
Your employee handbook is a valuable resource for your company. You should spend some time drafting and refining it before release. We have laid out some steps to help you on your way:
Make sure it reads well
Any good employee handbook should read well and not be too full of corporate language. Setting the tone for the reader will create a positive impact and will encourage the employee to engage fully with the content. A less formal, more conversational tone will make for a more interesting read.
Focus on your company culture and brand messaging
It's a proven fact that companies that have a good work culture have the happiest, most productive employees. Happy employees are great brand advocates. Your messaging or brand should be broadcast to everyone in the company from day one so that they can understand your values.
Educate your employees about where your identity came from and what drives your company culture. This is so important to get buy-in from your workforce so be sure to make this an essential part of the handbook.
Give Information Employees Want
You should begin by giving employees an overview of the benefits of working at your company, then lay out the information required to help them navigate the first couple of weeks. Provide helpful information if you have a dress code or include information about the company break room and expectations about keeping it clean etc.
Employees want to know what it's like to work for your company and usually won't wade through the drudgery if there's no payout.
Align it with your corporate identity – make it look beautiful!
Good design goes a long way. Use your brand colours and a bold design that will make new hires want to open the handbook. If you have a budget, hire a graphic designer and photographer to help create a guide that is relevant, real and showcases your company. Keep it as close to your company identity as possible and if you rebrand your corporate look, rebrand your handbook along with it. Give your employee handbook a big dose of character.
Digitise that Information!
Make your handbook available in digital format and allow for a print version.
Digital handbooks are also great for new employees to receive before they start their first day in the office or remotely. Give your employees a reason to be excited about starting at your company.
An Example of an amazing Employee Handbook
When Valve's employee handbook got leaked in 2012 it immediately went viral – and for good reason! Few handbooks are as empathetic, informative, and full of personality. It strikes a perfect balance between being humorous and helpful, and will likely remain the holy grail of employee handbooks for years to come.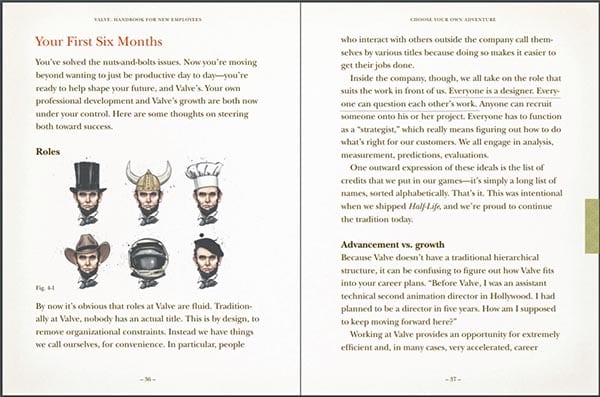 Click here to download a full pdf of the Valve handbook
The Benefits of an Employee Handbook
How Does an Employee Handbook Benefit Employers?
An employee handbook keeps all of your company policies and procedures in one central place and helps you stay consistent in enforcing those policies and procedures. This can be essential if legal questions arise or if an employee breaks one of your company policies.
The Society for Human Resource Management advises that employers should not only distribute a copy of the employee handbook to every employee but also that they require every employee to sign a document declaring that they received, read, and will follow the rules outlined in the employee handbook. This can protect your organization if you are required to discipline an employee based on policies and procedures in the employee handbook.
The CIPD also states that and employee handbook sets out terms and conditions that need to be provided to employees in writing under the Terms of Employment (Information) Acts 1994-2014.  It compares employment contracts and employee handbooks and warns that terms set out in employee handbooks are often treated as part of the employee contract especially when they concern grievance procedures.
Enquire about using HRLocker in your organisation in 2023
Book a Demo