The last few months have been filled with uncertainty for many people, the UN agency estimates that lost working hours are now equivalent to more than 300m full-time jobs. Companies are working hard to keep their people on furloughed leave, and in Ireland alone, 600,000 have been claiming the Covid-19 payment. But it's not all doom and gloom! Although things may look bleak right now, the expected turnaround is coming down the line. The slow and steady rise of sophisticated technology, global connectivity, and an older population in the workforce will enhance existing trends and bring about big, new changes. Companies that can adapt and develop in an agile environment will be the clear frontrunners in the next few months.
The winners will be online companies that don't rely upon brick-and-mortar locations, healthcare providers, supermarket chains—especially those with a robust online presence— pharmaceutical companies working on cures for diseases, scientists, technology companies and services, such as Zoom, that cater to people working from home.
According to the Financial Times, "Tech companies are still hiring feverishly as they move to take advantage of a world shifting increasingly to digital as a result of coronavirus, despite mass lay-offs elsewhere and growing concerns over downward turns in global markets."
People working in these sectors will find jobs and there will be strong demand from some companies. For example, Amazon is hiring 100,000 workers due to overwhelming demand. As people are working from home and unable to venture out of the house, Amazon is surpassing its sales targets.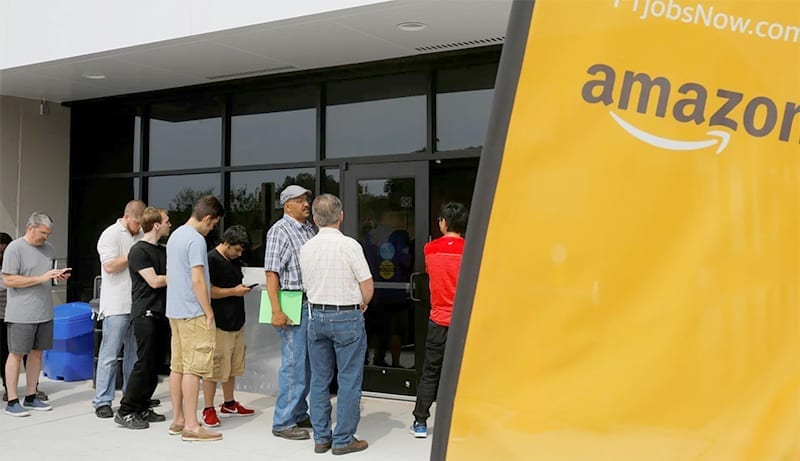 Jobs are available, but retraining or adapting to new tech will be the way forward to remain relevant in the job market.
Remote working and Dual working
will also be a massive part of the new work landscape with big hitters like
Google
, Twitter & Facebook all extending their work-from-home policies.
This, in turn, will lead to a whole new way of interviewing and onboarding for new positions.
Company culture will become a huge part of it, as well as online video interviewing. The tech-savvy amongst us will most definitely shine during these times. Having great employer branding will also be huge in attracting new talent.
The recruiting process can often be a laborious process, whether online or in the office but there are ways to simplify the process.
For employers, having an Applicant Tracking System (ATS) is a must
A few things to consider when looking for an ATS:
Choose an ATS that's easy to use for both applicants and recruiters such as HireLocker. Ask an online HR Software seller to walk you through the system and use of the dashboard. The less time spent on training HR personnel, the faster applicants can be processed and the new system implemented and integrated.
Onboarding is an important consideration when choosing an ATS. Make sure that the system can bridge the gap of communication between HR and other departments to allow for a more streamlined hiring process.
Get your solution from a reliable company such as HRLocker, with a history of good service and stability. You don't want to buy a service from a company that won't be able to deliver in a few months' time. Take time to study the company as well as the service offered.
Make sure the system has a social interface for you to post and accept applications via social networking sites. Social channels increase your ROI and increase brand awareness.
Things to consider if you are applying for a job online.
So how can you improve your chances to land a new position when the market starts opening again, how will you stand out from the crowd in an interview, especially if it's a virtual interview? Are there different rules for online Interviewing?
Do your research
A good place to start is the company website. It's good to know the basics, such as the origins of the company and when it was founded. But it's more impressive to show you've dug a little further. Think about:
The company's mission statement, company culture and key principles & behaviours
What the leading products and services they offer, who their target customers are and how large is their customer base?
Look at their competitors too, and get yourself primed up and ready to show you're knowledge of the sector.
Check your tech – do a test run on your PC well ahead of time
Currently, technology can be overwhelming and with online interviews especially, you need to feel comfortable using whichever method your prospective employer prefers (Zoom, Skype, FaceTime, etc.).
Be sure to pre-test any equipment that will be used during your video interview. That includes your camera and microphone. Make sure to disable any updates from running that might slow down your computer (or device). Good internet is essential, so if you don't have a stable connection, make sure you do the interview somewhere that has. Ensure your laptop is fully charged and ready to use.
What to wear, or not to wear!
Wear exactly what you would to a face-to-face interview, which means smart and professional clothing. The camera will be on your face but prepare for any scenario where you might have to stand up. A blazer and smart shirt Paired with a nice pair of Hawaiian shorts might not be the best way to impress!
Set up a clean and comfortable interview environment
It's not difficult to find a plain wall somewhere in your house, so when your video is on, think about what is visible to your interviewer. If you can, it's best to sit at a desk with a clean background behind you. Good lighting is a benefit, if you can sit with the light shining on your face rather than behind you, this is best. If possible, angle your camera to eye level.
Focus and take your time
When answering questions, you'll be tempted to look at the interviewer on your display screen. But like in any interview you need to maintain eye contact with your interviewer. In video interviews, that means looking directly at the camera.
Video interviews can be nerve-wracking. it's a good idea to keep a glass of water nearby, you might not use it, but it's there if your mouth dries up or you need to buy a couple of seconds of thinking time. And thinking time is completely acceptable. Take your time before rushing to an answer and listen to what the interview is asking you!!
Prepare questions
You've given a brilliant video interview and now your interviewer asks if you have any questions! Make sure to have three or four pre-prepared questions that you can ask to show your interest in the firm, and the job on offer.
Some examples of good questions include:
What will a typical day look like in this role?
What opportunities does the company offer in terms of personal growth and development?
How do you feel like you've professionally developed since joining the company?
The last thing you want is at the end of a great interview you are caught off guard and not have questions prepared… There is nothing worse than that feeling of getting off the call and wishing you had said something different. BE PREPARED!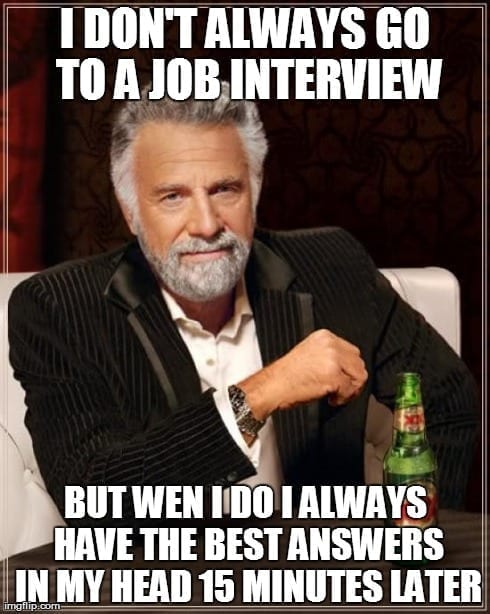 Thank the interviewer
Finally, make sure to thank the interviewers for their time. Don't end the video interview unless your interviewer has formally ended the interview and is clearly staying on the line make sure the video and mike are switched off before you let out a big exhale, you may still be connected!
Conclusion
The landscape of work will be very different after the coronavirus, most companies have had to adapt quickly to remote working lifestyles and it's a good idea to find out what their policies are going forward. If you are a successful candidate, asking questions such as 'what proportion of your work can be done remotely' or 'what is the onboarding policy if another lockdown occurs' are good questions to field before accepting your job offer.
This is a new era for companies, and it could be an opportunity for you to finally put some really good initiatives in place such as instilling a great company culture and building on company branding. As the landscape of work moves predominately online, [at least for now] use this time to plan out a strategy for creating a more dispersed workforce and enabling your people to work and interview from anywhere.
Enquire about using HRLocker in your organisation in 2023
Book a Demo