From tracking accurate billable time to making timely payments and maintaining up-to-date contracts and balance sheets, you've got your hands full. It becomes even more challenging when working in a remote environment and using spreadsheets and manual entry systems.
These manual processes are slow, and repetitive and can lead to errors and inefficiencies, and can get in the way of other crucial parts of your role, like engaging employees and managing continuous professional development (CPD).
You ideally want to track employee workload and leave, identify opportunities for your team's training and development, and foster a positive growth-oriented work environment.
To help you, we've compiled a list of the best timesheet software alongside the key questions you should ask when evaluating each solution.
Table of contents: 
How did we evaluate the best timesheet software?
6 Best time tracking software for accountants
Questions to ask before you choose a timesheet software
So, which time-tracking software is right for you?
Frequently asked questions
Never miss a billable hour again
Effortlessly track employee workload, empower your team with self-service, and streamline HR management processes
How did we evaluate the best timesheet software?
With so many options, finding the HR software that most closely aligns with your unique needs is hard work. Here are the most important factors to consider and what we've based our recommendations on:
Accurate time tracking: You need a reliable way to capture billable hours. The best timesheet software allows your employees to easily and accurately clock in and out as they switch between tasks, projects, and clients.
Self-service portal: A timesheet software with a self-service portal empowers team members to independently access and manage their personal information, like contact details, leave requests and certifications.
Mobile app functionality: If you're managing remote teams, the time tracking software you choose must offer a mobile app for iOS and Android and have a mobile-responsive platform. This way, employees can easily track time and manage tasks on the go.
Project management features: Timesheet software with features for project planning, budgeting, and tracking progress helps you manage employee workload and ensure projects stay on track.
Reporting and analytics: A lack of visibility into employee performance, project profitability, and resource allocation can hinder informed decision-making. Timesheet software with robust reporting features helps identify trends, monitor KPIs, and identify areas that require attention or improvement.
Compliance and security: You need a solution that's GDPR-compliant and automates compliance-related tasks, like generating reports, and managing documents and signatures. This includes an automated solution for calculating annual leave entitlement and allocating time off in lieu (TOIL).
Best time-tracking software for accountants
Here are our six recommendations for the best time-tracking software. You'll find an overview of each, explaining how it fits our evaluation criteria with key features and pricing.
HRLocker
Time Analytics
Clockify
Toggl 
Hubstaff
Paymo
1. HRLocker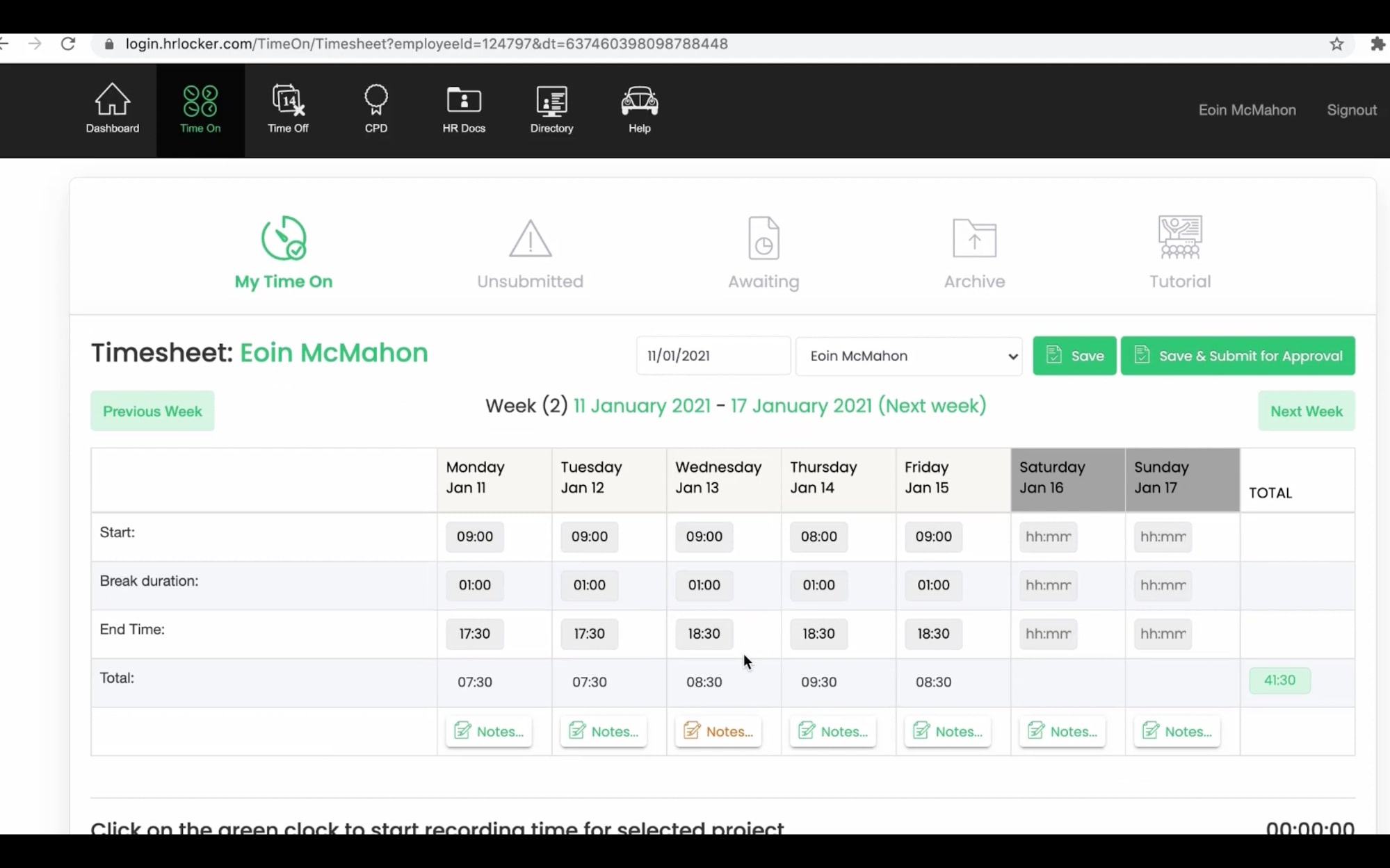 HRLocker's timesheet dashboard lets your employees save and track their work hours.
Source: HRLocker
HRLocker is ideal for core accounting HR responsibilities and offers functionality for accurate leave management, an integrated human resources information system (HRIS) for a central cloud-based database, and the flexibility to create and manage training for CPD.
HRLocker is a three-time winner of the 'All-Star HR Software Company of the Year' and is an honourable mention in the All Ireland Business Foundation (AIBF). This national body accredits outstanding companies.
Key features that accountants love
Time management features let you track billable hours with GPS data and manage timesheets and employee hours for efficient, accurate time reporting.
Leave management solutions let you manage employee requests and approvals. This feature is also available as a self-service portal on the mobile app for iOS and Android
Employee database is a centralised platform that stores employee information, making it easy for accounting firms to access and update vital details.
Performance management tools let you set up customised appraisal workflows and processes for measuring employee scores and behaviours.
Reporting features give valuable insights into employee performance, attendance and leave data.
HR document database is a central hub where you can store, publish and assign documents like contracts, policies and procedures to your staff or employees.
Digital signatures management lets you upload documents, add signature fields and send it to the relevant parties for signing.
Integrations with popular business apps like Google Calendar and Office 365
HRLocker is ISO/IEC 27001 certified and follows international standards to manage information security.
What HRLocker doesn't do
While HRLocker is a versatile software solution suitable for businesses of all sizes, it's important to note that the pricing can vary based on the features and functionality you require.
Learn more
HRLocker's Payroll Export lets you easily calculate overtime and hourly paid employees. Plus, this feature works with all payroll software.
And if you learn better with video, here's an overview of how you can generate Payroll Exports with HRLocker:
Pricing 
You can choose the HR Essentials plan at €4 or £3.50, or $5 or the HR Professional plans at €6 or £5.50, or $7 per employee per month – ideal for teams with up to 15 employees. And if you're a team of 250+ employees, you'll receive a custom quote.
Never miss a billable hour again
Effortlessly track employee workload, empower your team with self-service, and streamline HR management processes
2. Time Analytics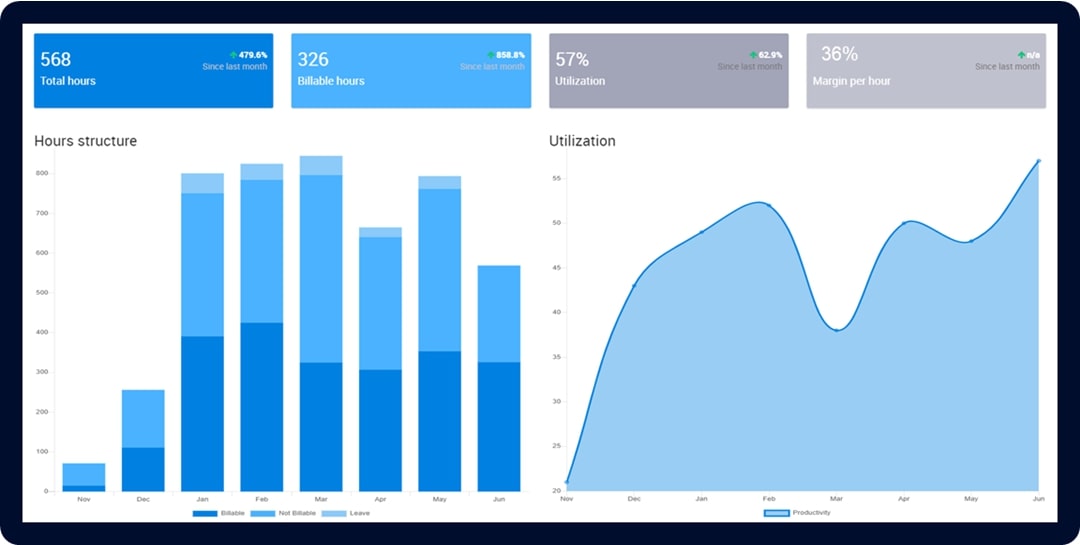 Time Analytics generates employee time tracking reports.
Source: G2
Founded in 2019, Time Analytics is a paid tool that helps simplify processes for billable and non-billable hours calculations, time-tracking, and employee productivity. You can easily track employee hours and analyse projects and client performance.
Time Analytics offers a simple user interface with a dashboard that lets you gain insights into KPIs and identify gaps between planned and actual performance.
Key features that accountants love 
Time tracking features let you easily view time spent on individual tasks, projects, and clients, ensuring accurate billing and resource allocation.
Reporting features give you insights into team productivity, billable hours, and project profitability.
Client management lets you monitor project costs and profits, identify missing billable hours and estimate revenues for each client or task.
Performance tracking lets you see which team members used their full scheduled hours and worked overtime and automatically calculate revenue based on your team member's billing rate.
Data is hosted in Amazon Web Services (AWS), which is ISO 27001 certified.
What Time Analytics doesn't do 
Time Analytics doesn't have a built-in payroll management system, lacks dedicated tools for tracking and managing project-related expenses, and doesn't integrate with third-party applications.

Pricing
Time Analytics doesn't offer a free plan, but both paid plans come with a 14-day free trial. The Starter plan starts at $5.99 per user per month with Unlimited users, clients, and projects. But if you want advanced functionalities like revenue and profit reporting, the Optimum plan starts at $8.45 per user per month.

3.Clockify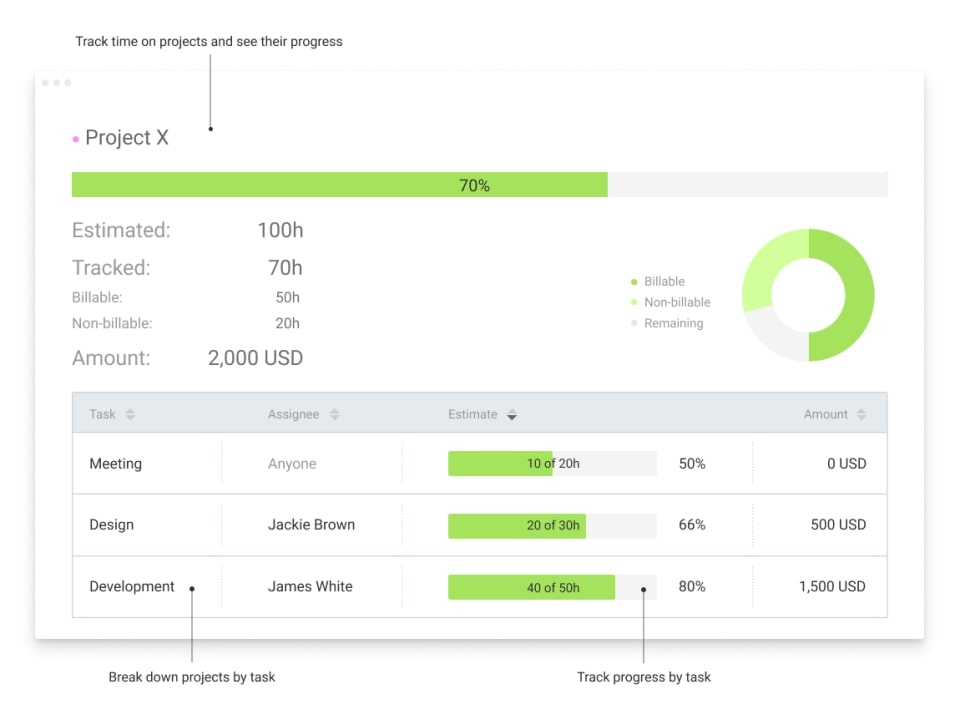 Clockify lets you create and track budget estimates for your projects.
Source: G2
Launched in 2017,Clockify is a free time tracking and monitoring app specifically designed for small CPA firms or enterprises with a huge budget. It's ideal for hybrid workforces and managers who want to monitor employee productivity and approve time-off easily.
Like HRLocker, Clockify also enables GPS tracking so you can monitor your locations during clocked hours.
Key features that accountants love
Timekeeping features let your team manually enter daily hours, log weekly activities, and monitor productivity.
Reporting features let you generate data points into clients, projects, and employee attendance and set task budget estimates.
Expense tracking dashboard lets you customise expense types and attach receipts and export reports.
Invoicing features let you issue invoices with your brand logo based on time tracked, expenses or hourly rates and are downloadable.
Integrations with 80+ tools like Quickbooks, Trello, Asana, and Notion enable data synchronisation across different platforms.
Data is hosted on AWS and the platform is ISO/IEC 27001:2013 certified.
What Clockify doesn't do
Some users have expressed concerns about the user interface, describing it as clunky or unintuitive, making it challenging to navigate or customise to their needs.
Pricing
The Basic plan starts at $3.99 per user per month for administration features, while the Standard plan for timesheet and billing features starts at $5.49 per user per month. But if you want advanced features for scheduling and forecasting, you can opt for the Pro plan at $7.99 per user per month or the Enterprise plan at $ 11.99 for security features.

4. Toggl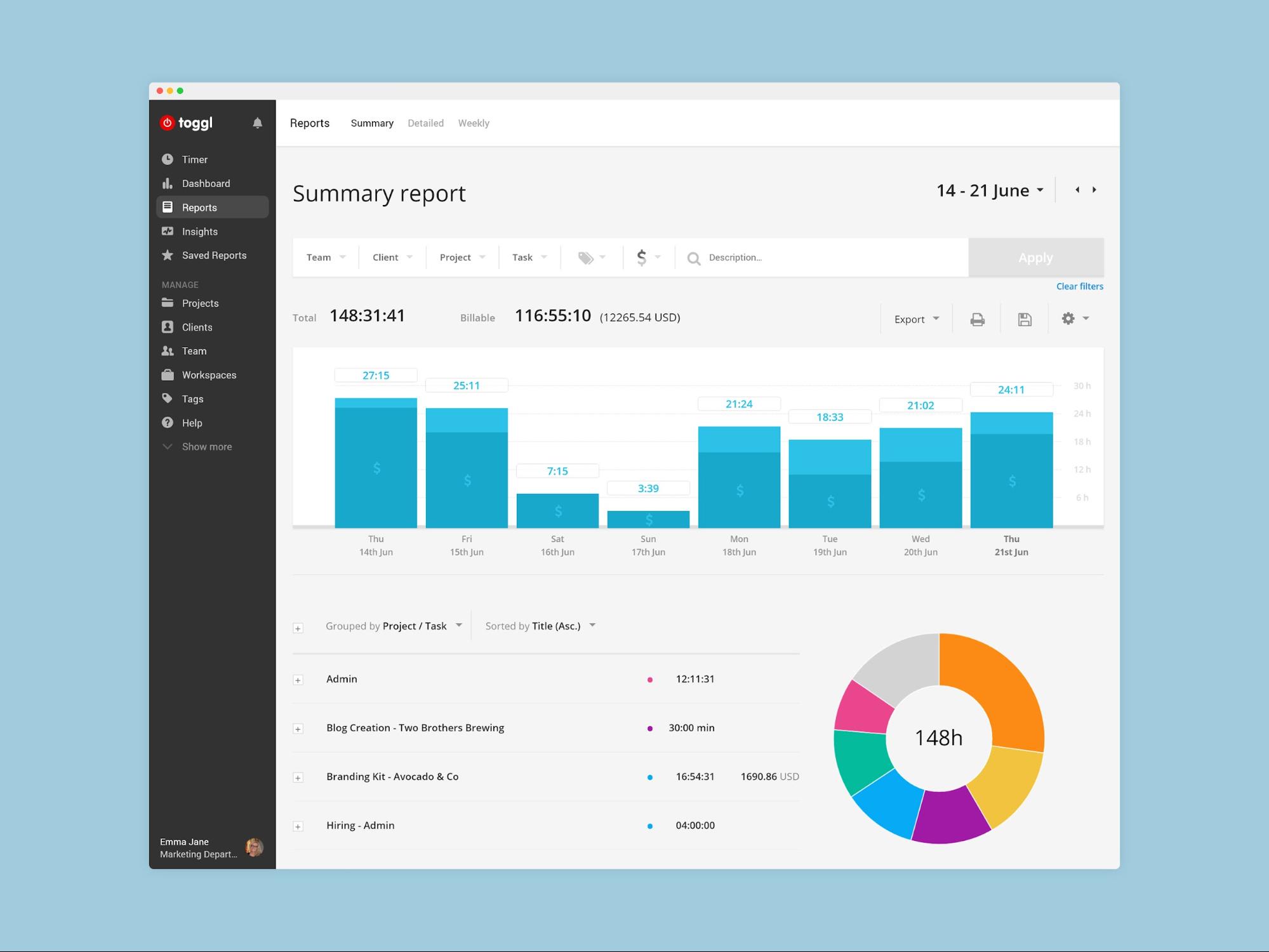 Toggl lets you generate summary timesheet reports.
Source: G2
Toggl is a simple time tracker and timesheet software ideal for small businesses, freelancers, and micro businesses on a tight budget. The platform has a desktop app with a browser plug-in and mobile apps.

Key features that accountants love
Time tracking lets you manually enter data or add your calendar events as time entries and create custom categories or tags for your tasks.
Reporting feature lets you generate 3 reports, a summary of the total time tracked, a detailed report with each time entry, and a weekly report.
Project tracking enables you to set project budgets using time estimates and create and assign sub-tasks.
Integrates with popular apps like Asana, Google Calendar, Slack, Xero, and Zoho Books for payroll automation.
What Toggl doesn't do
At the most basic level, Toggl is just a time-tracking software and lacks advanced features like expense tracking and employee monitoring functionalities>.

Pricing
Toggl has a freemium plan that supports up to 5 users, and the paid plans range from $10 to $20 with project forecast and analysis and time tracking audits. You can also request a custom quote if you want a more customised solution.

5. Hubstaff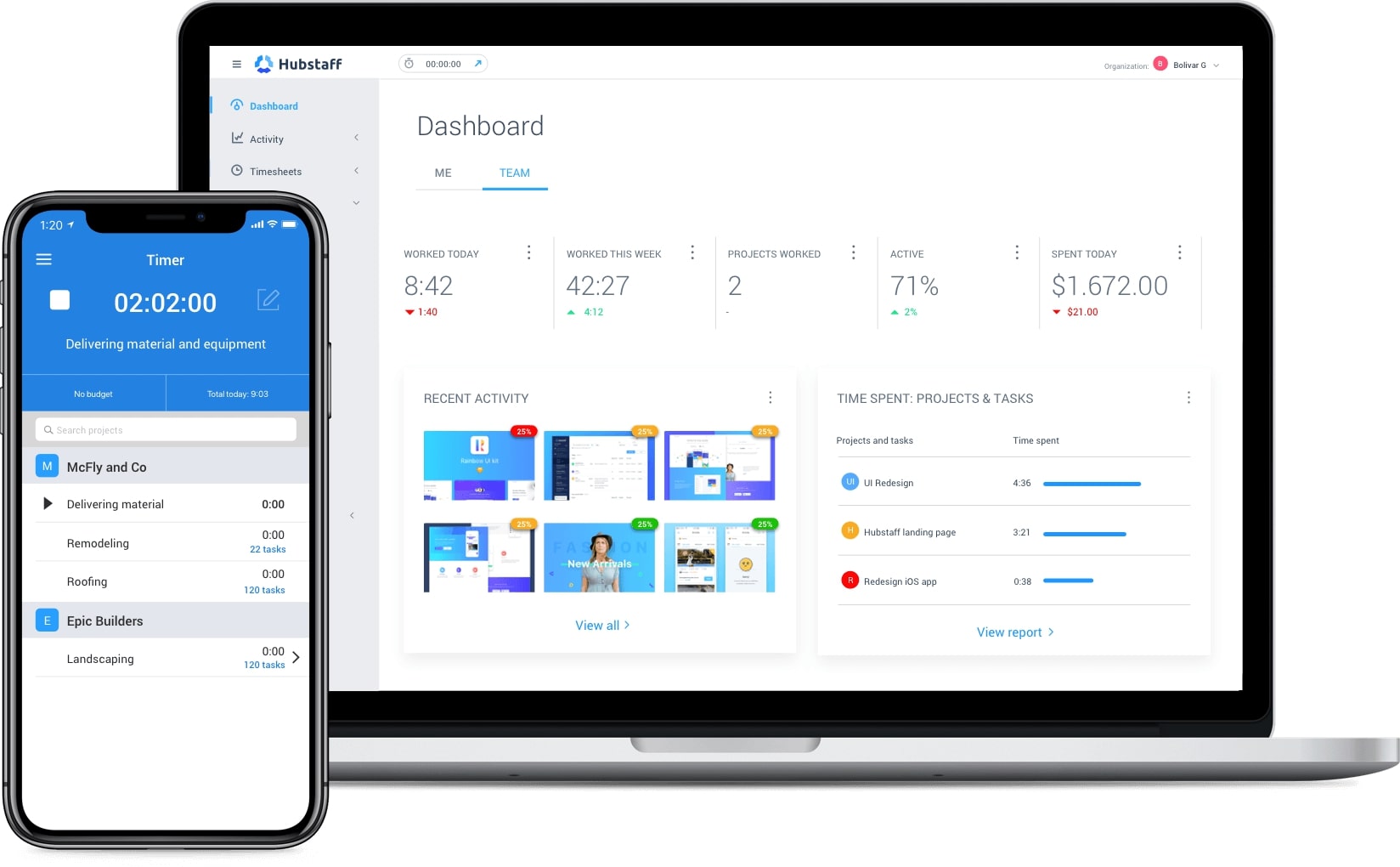 Hubstaff is available as a desktop app and supports mobile apps for iOS and Android.
Source: G2
Like HRLocker, Hubstaff is a time tracking and employee monitoring solution with GPS tracking ideal for large enterprises. What makes this tool different is its screen-capturing feature. You can set an automatic timer to capture screenshots of your employee's actions.
The system then checks the percentage of time an employee has been working, which acts as a productivity score. You can also see team members on a map and see their previously taken routes. Hubstaff is available as a desktop app, browser and mobile device.

Key features that accountants love
Time management and scheduling lets you either manually build time sheets with previous hours worked or with the stopwatch feature that floats on your screen.
Employee monitoring features, as well as activity screenshots and GPS tracking, includes URL monitoring so you can see what apps and websites your employees visit.
Reporting features let you generate reports for time and activity tracking, payroll and invoicing, which can be downloaded as CSVs´ or PDFs.
Integrations with 30+ apps like Asana, ClickUp, Bitwage for credit card payments, PayPal, Salesforce, and Zendesk.
Hubstaff is SOC 2 Type II compliant as of December 2021.
What Hubstaff doesn't do
Hubstaff only lets you add previous hours worked, so it can't be used as a shift planner.

Pricing
Hubstaff offers three pricing plans based on the features you need. Hubstaff Time offers basic time tracking and reporting features, while the Desk plan offers additional time management features ranging between $7 to $10 per user per month. But if you also need GPS location monitoring, the Field plan ranges from $12 to $15 per user per month.

6. Paymo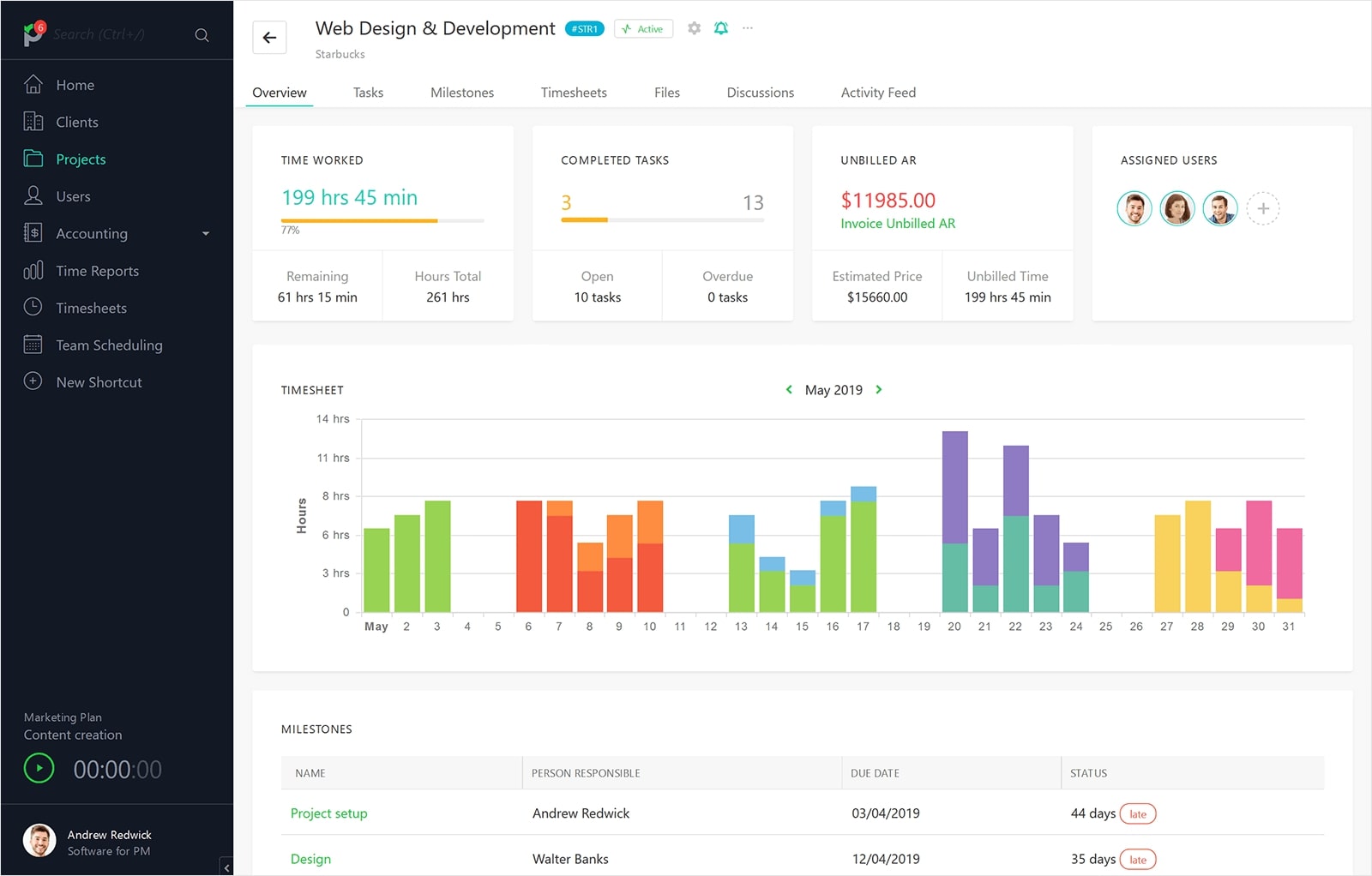 Paymo gives you a complete overview of your projects.
Source: G2
While Paymo is primarily a project management tool, it offers time tracking, invoicing, and billing functionality. So, it's not as robust as an all-in-one HR solution, but it's ideal for small businesses that want low-cost software. That said, there's an Enterprise plan for larger teams and more complex work (discussed in the pricing section, below).

Key features that accountants love
Time tracking features let your team members drag and drop time entries> or even manually add entries in bulk at the end of the day or week.
Reporting features help you generate actionable insights into your workflows and employee performance levels.
Employee scheduling and workday planning features let you arrange shifts with a visual overview in different layouts.
Project and task management solutions let you create, assign and track tasks organised as Kanban boards or calendar lists.
Integrations include invoicing tools like QuickBooks and Xero and other tools like Slack, Zapier, and JotForm. 
What Paymo doesn't do
While Paymo has some scheduling tools, they don't automatically rebalance the workload of your team members< if someone is unexpectedly unavailable to work.
Pricing
Paymo's free plan lets you add up to three clients. But if you're a freelancer or a small team, you can opt for the Starter or Small Business plans, which start at $5.95 and $11.95 per user per month. And if you're a large team that needs dedicated online remote assistance, you can opt for the Enterprise plan, which starts at $24.95 per user per month.

Questions to ask before you choose a timesheet software
To help you find the right timesheet solution for your business, be sure to ask these key questions:
How quickly can we go live?
You need to consider the time required for implementation and training with minimal disruption to your workflow. Rushing the process could lead to errors, confusion, and ultimately, lower adoption rates.
What other HR solutions do you offer?
Explore whether the provider offers additional tools like expense tracking or performance management for a more comprehensive HR solution.
Do you have localised customer support?
Determine if the provider offers support in your timezone and language, ensuring timely and effective assistance when needed.
Are there any additional fees for setup, training, or ongoing support?
Some providers may charge extra fees for setup, training, or ongoing support, which can quickly add up over time. These fees may not always be explicitly stated so ask about any potential hidden costs upfront.
Can the software handle multiple currencies and languages?
If you have a distributed team or clients that operate in multiple countries, it's important to consider whether the software solution you're evaluating can support international teams.
What data backup and recovery mechanisms are in place?
Data loss or corruption can be a significant risk for businesses. Ask the software provider how frequently data is backed up, where backups are stored, and how quickly data can be recovered in the event of a failure.
So, which time tracking software is right for you?
The right time-tracking software will help you ensure employee productivity, manage time efficiently and get accurate insights into your team's performance.
All the solutions we've listed offer different functionalities and cater to businesses of different sizes and requirements. But if you want a high ROI solution that scales with your operations, HRLocker has a track record of helping growing businesses meet their HR needs with a user-friendly platform, award-winning customer care, and a range of practical solutions that accountants love.
It offers powerful features like GPS tracking and custom reporting and integrates with popular apps and tools. Plus, HRLocker offers compliance with GDPR and other privacy regulations, so you can rest assured that your data is safe.
Never miss a billable hour again
Effortlessly track employee workload, empower your team with self-service, and streamline HR management processes
Frequently asked questions about timesheet software for accountants
What is the primary function of timesheet software for accountants?<
The primary function of timesheet software for accountants is to track employee hours, generate reports, and bill customers accurately. It also helps with invoicing, and expense tracking and provides insights into team performance.
Why would someone use timesheet software?
An all-in-one HR software solution like HRLocker provides simple automated solutions for your timesheet processes. As well as gaining insights into team performance, tools that automate manual tasks like calculating and allocating time off in lieu (TOIL) let you focus on more exciting HR responsibilities, like employee engagement and improving productivity.
Enquire about using HRLocker in your organisation in 2023
Book a Demo