The HRLocker 'Future of Work' report
It's difficult to make predictions, especially about the future of the workplace, but the data on the impact of the pandemic is in.  In a recent HRLocker survey,  we took a cross-section of 350 organisations and the findings reveal almost one in three (31%) companies plan to make employees redundant as part of their cost-containment strategies over the coming six months.  In addition to redundancies, other scheduled cost-saving measures include recruitment freezes (43%), lay-offs (37%), reduced working hours (31%), pay cuts (23%) and office downsizing (20%). Just 34% of respondents stated they would not be introducing any form of the cost-containment strategy.
We are living through a fundamental transformation in the way we work. Automation is replacing human tasks, changing the skills that organisations are looking for in their people. Many companies are making the switch to digitising the mundane tasks in their organisations with many investing heavily in new tech and software.
Adam Coleman, CEO at HRLocker, comments, "With the country already slipping into a deep recession and Brexit around the corner, the impending jobs crisis could potentially eclipse those of the 2008 financial crisis. The government needs to take decisive action immediately to support businesses and workers, going far beyond those outlined in the Finance Minister's latest budget."
Businesses are struggling
These cost-containment measures are indicative of the sustained negative impact the pandemic and subsequent lockdowns have had on organisations' revenues. 74% of respondents said they were finding the sales impact very or extremely challenging; up 18% on an HRLocker survey conducted in May.
The research also shows employers are divided on whether to re-open their offices. Even before the announcement of a second lockdown, just over half (51%) of businesses had started bringing employees back into the workplace, while 37% expressed that they will not begin doing so until the crisis subsides and/ or testing is broadly available.
A major worry about reopening for employers is the risk of liability over coronavirus-related claims and the potential for lawsuits if workers contract the virus. That's despite the fact that 83% of business leaders claim to have put in place formal plans and procedures to manage Covid-19 exposures in the workplace and situations where employees are showing symptoms.
Moreover, there has been a notable spike in the number of companies struggling to manage employee stress, with many stating it has been very or extremely challenging.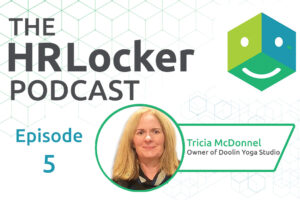 Listen now to our Podcast with Trishia Mc Donnell from Dooling Yoga about how to help with employee stress.
Digital Paradox
Ironically, despite planning to reduce staff numbers and halt talent acquisition, many companies indicated they plan to recruit talent before the end of 2020, with roles in IT (61%) and sales (44%) the most in demand.
The high demand for IT skills reflects a significant shift to digital working models adopted by organisations. 85% of the executives surveyed stated that the pandemic had accelerated their digital transformation. This is only likely to accentuate Ireland's IT skills shortage, which has been extensively reported in recent years.
"We need a bold and aggressive national strategy, that focuses on apprenticeships and reskilling workers, encouraging employers to retain and retrain employees by meeting their changing talent needs. Anything less will lead to a lost Covid generation, with those from less advantaged backgrounds suffering most' adds Coleman.
Enquire about using HRLocker in your organisation in 2023
Book a Demo