A solid online staff holiday planner system will instantly save time, money and lower tension amongst your team.
That said, good policy's still required no matter what kind of annual leave calendar you're using.
So here's some tips on implementing smart, staff time-off procedures.
How To Manage Staff Holidays and Time Off
Remember that, as well as wanting to avoid common employee holiday related issues, failing to ensure service levels, production volume and customer service standards are maintained can be costly for your business. So, if you're looking for a solid employee holiday tracker, follow these steps to bring peace and harmony to staff holiday planning.
Publish an Annual Leave Policy
Will leave requests be handled on seniority, time served or first-come-first-served basis? Who's the official, appointed staff holiday planner manager and decision maker? What exceptions will be made for covering core operations and skills overlaps? What'll be your minimum notice period for time off requests?
Be sure to manage your employee's holidays fairly and
Although it does arguably reward the more forward-thinking and organised in your team, you may judge that, for major holiday times, 'first-come-first-served' might not be the fairest approach. And, dependent on your individual type of operations and business, may need clarification on how the share of cover will be rotated amongst the organisation.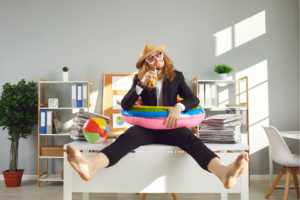 To avoid conflict, especially amongst valuable staff assets, perhaps tactics such as splitting shifts further, (e.g., into half shifts or half days) can share the load.
Whatever you do, be fair and be consistent. And carefully investigate Working Time Regulations (WTR) or similar legislation in your country
Be clear on if any compulsory cover involves extra pay or overtime rates
How such cover would rotate fairly. As for example, cover will only involve busy period X not period Y' / 'Cannot take time off during both busy period X and Y'.
Clarify pay conditions relating to regular hours for paid leave.
Will you outline key 'blackout' periods where time off cannot be booked?
Make sure this and other points in your policy are accessible in company HR Documents. Preferably with employee self-service functionality such as digital signing so you can be assured everyone's read and taken responsibility for reading policies themselves.
Will you identify periods where time off's compulsory?
Such closures can address output issues, resolve strain and allow a fair, across-the-board solution for commercial deadlines to work around. A work holiday planner can block these weeks off and calculate leave balances.
Be sure to clarify maximum periods of time off.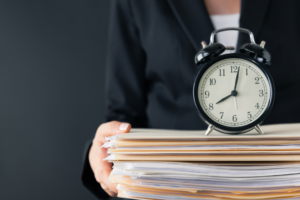 What's your policy on Time Off in Lieu (TOIL), carrying over annual leave from year-to-year?
If unsure, or making new policies, examine the law and your current contracts carefully. Also check and clarify procedures relating to holidays in the previous year not taken due to sick or maternity leave.
Some organisations have implemented unlimited annual leave to ease the pressure and put the responsibility on to workers to choose how much and when they take time off. This might not completely eliminate issues relating to busy times. But it could mean some staff morale levels rise if they're less restricted and confined. Holiday planner software allows you to manage who's had enough rest regardless of the policy.
Bear in mind everyone deserves regular, stress-free breaks to maintain their appetite and satisfaction levels and ultimately productivity. An online holiday planner will help you give fair and timely respite – in a highly visible format – to your team. (Plus they'll stop knocking on your door to ask how many days they have left)
Make Your Staff Holiday Planner Visible
Having an easy-to-view outlook of who's off – and when – can smooth operations without the need for tedious, complicated spreadsheets. Use an employee holiday planner to give the team an overview of the year ahead without guesswork or the need for subterfuge and illicit conversation at the water cooler to gain intelligence on who's planning to be away during busy times. If there's a visible-to-all holiday schedule, then your teams can make informed decisions about when to book their annual leave for.
A shared staff annual leave planner will put a lot of the onus onto employees to take responsibility about avoiding clashes with colleagues and enable smoother planning.
A transparent overview from an annual leave booking system also allows managers to have a fairer overview when approving time off requests.
How to Calculate Your Annual Leave
With some notice given from a good annual leave management system offering a clear overview,  you can plan ahead for part-time staff to cover busy times and hopefully save the significant costs of last-minute cover.
Consider keeping a pool of part-time employees to hand when you need the extra help
Before reaching out to agencies, bear in mind these pool staff could be from recently-unsuccessful-but-suitable applicants, students that are free in busy periods or even personnel from your own company in other departments that might have previously expressed an interest in your departmental functions that could be useful to assess for future transfer. Perhaps you'll give your main team parameters and deadlines and outsource to them the task of who they propose to present to you as their own temporary substitutes?
Prepare for staff shortfalls
Ensure that periods with large staff shortfalls or shortages involve a carefully laid-out handover of key deliverables and protocols. And ensure any relevant training is given in advance. A solid work holiday planner will assist.
Make sure that everyone is informed
Explain to new, part-time and temporary workers what the conditions are for time off themselves during busy times in relation to full-time staff.
Plan backups for your backups!
Be sure to always keep your business going independently of who is working.
Consider flexible working arrangements
Even if temporary, if possible, allow some work/life balance with their family if they get the 'short straw' to cover during a busy period.
If you have to, offer incentives to employees to volunteer for cover.
Enquire about using HRLocker in your organisation in 2023
Book a Demo