As your team and volunteer base grows, much of your work can become increasingly tedious and prone to error. You might turn to free project management templates and apps as your solution, but these options lack the functionality of a dedicated HR platform, can add to your workload as you scale, and could raise compliance issues. 
The best HR software for non-profits centralises employee and volunteer data, automates core HR processes and helps you lead an engaged team. That's why we researched and compiled our shortlist of solutions based on:
Usability

Local regulation compliance

Customer service

Time and attendance tools

Employee and volunteer management features
We also explain how our top choice offers award-winning customer support and a substantial discount to non-profits, not-for-profits and charities. 
Automate your HR processes, give employees a self-service portal, reduce your workload and take advantage of our discount for non-profits.  Book a free demo
8 features to look for in your HR software
While HR software for non-profits can make your life easier, not all are designed to meet your specific needs. 
See our helpful comparison table to give you an at-a-glance breakdown of crucial features. Below the table, we explore the most practical HR software elements for your teams.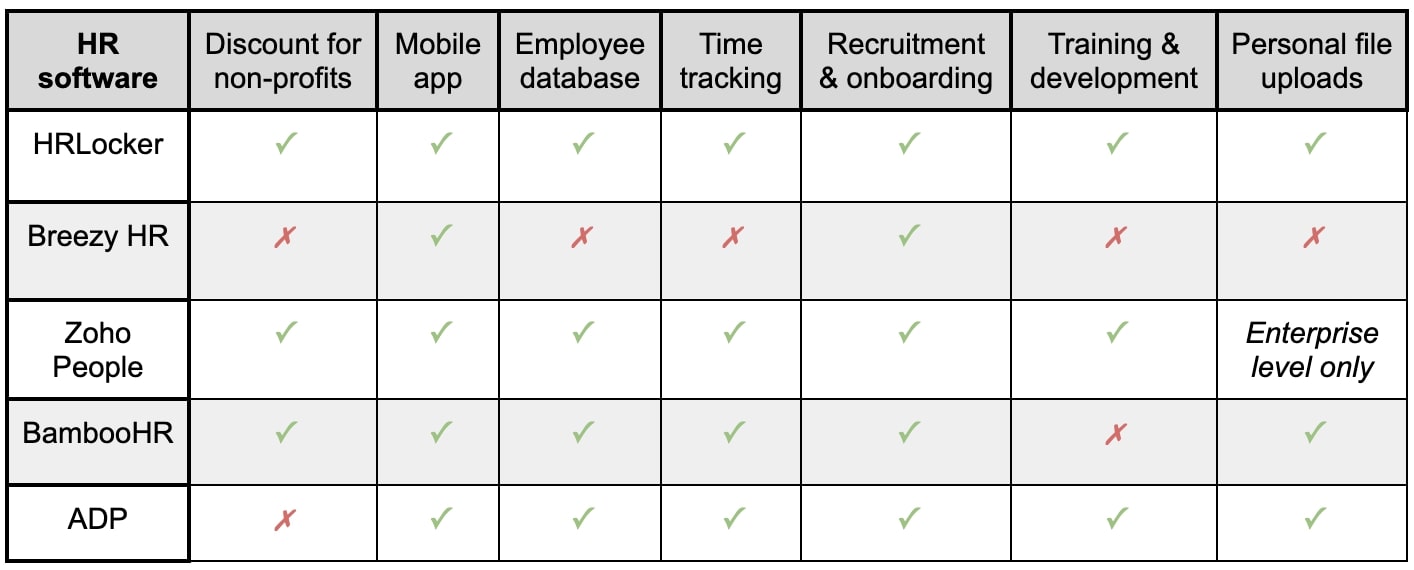 Compliance
Depending on where you operate, you may be required to publish salary and gender pay gap data and maintain records for a certain period of time. HR software should make compliance as hassle-free as possible to avoid penalties and fines.
Ease of use
Some HR platforms sacrifice user-friendliness for functionality, offering a wide variety of features but making the learning curve long and challenging. With that in mind, prioritise an HR platform that makes managing an employee and volunteer database intuitive and customisable. 
Customer support
An attentive, easy-to-reach customer service team can help you navigate the first weeks of software implementation and help you address any challenges down the road. It's best if they're reachable by at least two different channels, whether by phone, chat or email. And if they respond in less than 24 hours, even better.
Time management
Many HR software platforms have a mobile app that employees can use to clock in and out and to record breaks, which helps you keep more accurate records, support productivity, and ensure employees aren't working too many hours. Platforms like HRLocker even have GPS-tracking that gives you visibility on workers' locations.
Absence management
With an effective absence management tool, employees can visit their self-service portal to enter holidays, sick leave, or other personal time off. Managers simply approve or deny requests with a click.
The best HR platforms also simplify time-consuming practices like calculating and allocating time off in lieu (TOIL), making it simple for individuals to find their TOIL balances and book time off against those hours. 
Volunteer management and background checks
Volunteer background checks are standard practice for not-for-profits and, in some locations, are legally required. So, choose an HR solution that makes sharing, digital signatures, and storing background checks and relevant volunteer documents as streamlined as possible to avoid any legally-required paperwork from getting lost in the shuffle. 
Best HR software for non-profits
To save you from a daunting online search, we've included our top five HR software recommendations for non-profits, breaking each one down by best use case, unique features, and pricing so you can make the best decision for your organisation.
HRLocker – Substantial discount and volunteers go free
HRLocker is an intuitive, all-in-one solution you can use to onboard new employees and volunteers, keep their data organised, stay on top of time and attendance, manage team performance and track hours with in-depth reporting features.
We're not shy about recommending our very own HR platform as our top choice because it acts as a central hub for automating and simplifying both internal and volunteer-facing processes. 
What's more, HRLocker gives non-profits, not-for-profits and charities a substantial discount – and there's no charge for volunteer users, no matter how many you recruit. 
Why HRLocker stands out
HRLocker offers award-winning customer support that you can access by chat, phone, or email. We're ready to answer any onboarding and HR-related questions for new users, and you'll also have access to a plethora of invaluable podcasts, webinars and how-to videos, too.
Another impressive feature is HRLocker's GPS time tracking functionality, which automatically captures team members' location and start time when they clock in for work. That's ideal for both employees and volunteers who change work sites throughout the day or who often work remotely. 
On top of that, HRLocker customers find the software easy to implement, and they say it makes storing employee information, logging hours, and managing time off much more streamlined: 
"​​From initial testing of the software right down to full installation the team at HRLocker could not have been more helpful and ensured we were happy. It has transformed our time and attendance recording to being more professional and that of a modern employer." 

HRLocker user and Managing Director, Diarmuid C.
Key features
A central,

GDPR-compliant database

for storing employee and volunteer information, including background checks and right-to-work documentation

A user-friendly

self-service portal

where you can share job-specific information, documents that need e-signatures and training courses with volunteers. Employees and volunteers can also use this to request

time off for holidays

with minimal managerial involvement.

HIRE, an end-to-end

recruitment and onboarding

software where you can post open roles to popular job sites and social media as well as track, screen, interview and hire candidates
Pro tip: HR software can save your non-profit time and money,
but you need to know the return on investment so you can report it to leadership. Use our
ROI Calculator
to find out exactly how much your manual processes are actually costing you.
In-depth reports

for tracking time and attendance, employee and volunteer headcount, training data, and document completion

A

continuous professional development

(CPD) feature that lets you share training courses and tasks with team members and volunteers, with built-in reminders that let them know when their certifications are nearing expiration

Versatile

timesheets

that allow employees and volunteers to clock in and out or record their hours manually 

A

performance management system

that lets you customise your review process, gather feedback from employees and determine their training needs

Built-in

project management

tools where you can create and assign tasks and monitor their progress in real-time

Integrations

with popular job search sites like LinkedIn, Indeed, and Glassdoor, plus tools like Microsoft Teams and Office 365
Pricing
HRLocker offers a significant discount to non-profits, and you can manage volunteers for free. While the cost of your plan depends on the features you need and the number of employees you have, you'll have access to the employee and volunteer database, time-off management, document storage and e-signing, and onboarding tools – all at a substantially reduced cost. 
Automate your HR processes, give employees a self-service portal, reduce your workload and take advantage of our discount for non-profits.  Book a free demo
Breezy HR
If you're looking for a platform with in-depth features to recruit new employees, Breezy HR has you covered. It's an applicant tracking system (ATS) designed to support you throughout the hiring process.
The candidate screening experience often gets chaotic, but Breezy HR simplifies the process with Kanban-style dashboards that show you where every job seeker is in the pipeline.
Why it stands out
Providing dedicated dashboards for every open role, Breezy is practical for organisations that need to hire quickly for multiple positions. Plus, users say the support team is helpful and responsive. 
Like HRLocker's HIRE for recruitment and onboarding, Breezy HR lets you manage all your interviews within the platform for a fully streamlined hiring process that provides candidate data in one centralised location, reducing your workload as you expand your team. 
Key features
Job advertising

on over 50 job boards, including niche boards for different industries

Customisable career sites

for showcasing your organisation's branding and mission to jobseekers

Candidate management workflows and dashboards

for a more collaborative and simplified hiring process

Video interview tools

to make interviews more shareable with your team and manageable from anywhere

Background checks and reports

to help you stay compliant as you bring new team members on board
Pricing
Breezy HR offers a free plan with basic hiring tools. Paid plans start from $189 (USD) per month and offer more advanced recruiting and applicant tracking tools for organisations of every size. 
Zoho People
Zoho has a sizable suite of products for handling business tasks, from customer support to marketing to IT management and finance. Zoho People is its comprehensive HR system that organisations can use to manage their top talent.
With additional add-ons for temporary staffing and expense tracking, Zoho People is a practical choice for growing organisations that need to tighten operations and manage personnel needs.
Why it stands out
Zoho People customers enjoy how the platform makes time and attendance easier to track, reducing their reliance on Excel spreadsheets. It also helps you keep track of how team members are feeling throughout their tenure with employee lifecycle engagement surveys. 
What impresses us most is how comprehensive Zoho's platform is, offering a wide range of functions, features, and integrations, though many of these are only available at premium and enterprise-level pricing or as add-ons.
Key features 
Recruiting and onboarding tools

for managing a candidate pipeline 

Employee database

for keeping employee data in order

Employee self-service

so team members can edit their own information

Full-service

payroll solution

that helps you pay employees, file the right taxes and stay compliant with local regulations

Talent management software

for

running performance reviews and developing employees with customised training

Employee engagement survey

tools to gauge employee sentiment and take action on their input
Pricing
Zoho People pricing starts at $1.25 (USD) per user per month, but some key tools are missing at this level, and features like employee profiles and premium support come as add-ons. 
Bamboo HR
BambooHR helps teams take charge of core HR tasks like time tracking, paid time off (PTO), talent management and employee engagement within its easily accessible platform. 
With a clean UI and short learning curve, BambooHR is a satisfactory option for charity organisations that have little to no experience using an HRIS to manage their internal processes.
Why it stands out
BambooHR users report that the platform has elevated their approach to hiring and team management. They also appreciate how open the support team is to suggestions for new features. 
Another intriguing aspect of the platform is the Employee Wellbeing tool, which allows team members to share how they're feeling about their work and organisational culture, allowing you to address signs of burnout and boost retention rates.
Key features
Employee database

for storing employee information, signed documents, training records, and job-specific checklists

Native applicant tracking system

that syncs with new hire onboarding tools and workflows

Time and attendance

system that allows employees to clock in and out from any device 

PTO management system

that lets employees view their current time off balance and submit time off requests for manager approval

Payroll software

that lets you pay employees based on previously recorded timesheets

Mobile app

that gives administrators and employees access to most of the functionality accessible from a desktop browser

Performance management

solution for running more objective, 360-degree employee appraisals

Employee net promoter score (eNPS) survey tool

for quickly gauging employee satisfaction
Pricing
Contact BambooHR's sales team for a custom quote.
ADP
ADP's core HR solutions are built around payroll, taxes and compliance, as well as its outsourcing services to take care of your manual HR administrative tasks.
With software for time tracking, benefits management, candidate screening and recruitment and hiring, ADP offers a range of products that are simple to integrate with your existing processes so you can focus on higher-level concerns, like how to improve retention and scale your operations.
Why it stands out
ADP® DataCloud lets you access industry analytics and benchmarks so you can compare your non-profit with others based on size, location and core activities.
You can then use this data to better attract and retain ideal candidates, define what salary and benefits to offer the team, and identify who in your organisation you're at risk of losing.
You can also use DataCloud's analytics to optimise pay equity, understand the cost of attrition and identify top performers.
Key features
Time and attendance tools

to optimise scheduling, budgeting and the cost of labour

Recruitment and hiring software

that streamlines processes and screens candidates

Benefits administration solutions

to engage employees, also covering insurance and retirement planning

HR resources

like guides, forms and handbook templates
Pricing
Contact ADP's sales team for a custom quote.
Give your non-profit HR processes an upgrade
HR software makes managing non-profit employees and volunteers easier and allows you to focus on the areas of your role where you can really effect change in your organisation – like employee engagement, productivity and community outreach. 
It can help you streamline processes relating to onboarding, training and performance management. It can also help you quickly access employee data, track leave, and manage benefits. Finally, it can provide insights and analytics to help you make better decisions. 
But it's often challenging to find a solution that's feature-packed, affordable, and easy to use.
Only a platform like HRLocker balances user-friendliness with functionality, allowing you to expand your team and volunteer base without stretching your budget too thin.
Automate your HR processes, give employees a self-service portal, reduce your workload and take advantage of our discount for non-profits.  Book a free demo
Frequently asked questions about HR software for non-profits
What specific needs does HR software need to address for non-profits?
Non-profits have tasks like coordinating cohorts of volunteers, reaching out to previous and potential donors, and complying with specific tax regulations – which means they need HR software that can support these and other processes. 
Here are some of the areas that a platform like HRLocker can automate and simplify:
Volunteer management
Regulatory compliance
Employee engagement
Projects and budget management
What do HR software solutions do?
In general, HR solutions are designed to help HR professionals automate their everyday tasks. They also give team leads and employees more control over their own work experience and make previously siloed tasks more accessible for everyone. 
More specifically, HR software solutions:
Assist in recruitment and hiring by automating job posts, candidate screenings, and interview setup.

Store and manage employee data, acting as a centralised database of information.

Automate administrative tasks like time tracking, recruitment and onboarding, and managing leave.

Manage employee performance with goal tracking, evaluation, and continuous feedback tools.

Provide analysis and reporting on employee engagement rates, attrition, attendance, and performance.

Make training and development easier with trackable, customisable learning courses. 

Help organisations comply with labour laws and tax regulations by storing the right information and keeping data secure.
The 5 Top HR Software to Help Your Non-Profit Thrive
was last modified:
May 11th, 2023
by