Blink and you'll miss it… HR has been digitalised!
Spurred on by the rise in remote working, numerous lockdowns, and widespread automation, HR has undergone a significant digital transformation. 
In the rush to build comprehensive remote work policies, handle departures and hires, and virtually onboard new recruits, HR teams have been forced to adopt new technology at lightning speed. 
Many of the activities we associate with traditional HR have since been outsourced to systems and software. Now, benefits, payroll, and performance management can be handled by a toolkit of software and subscriptions. 
This has alleviated the administrative burden for HR teams and led the department towards a more 'human' and less 'resource' focused function. But it also means HR teams have a new challenge to contend with: data. 
The structured stuff is generally easier to manage. Unstructured stuff gets complicated. The rule of thumb is, that if you can record it in a spreadsheet, it's structured data (like a name, address, or national insurance number). Unstructured data typically consists of text, media files, and things that aren't so easily categorised. 
With both kinds of data, there's a difference between using it and letting it use you. HR departments collect lots of it, spanning measurables such as engagement, productivity, and performance. This data can be used to guide decision-making and influence the organisational trajectory. 
But data can also be misleading. Without the right tools and knowledge to properly collect, analyse, and act on it, organisations with the best intentions could make the worst decisions. 
But why did data become so critical for HR in the first place? Let's explore. 
Data matters
Today, HR is a boardroom affair. As organisations come to terms with new ways of working and managing people, HR teams are the ones building policies and systems to make it a reality. 
Organisations also face increasingly human-centric challenges. A recent survey found that CEOs are increasing their focus on talent attraction and retention, developing the next generation of leaders, and employee wellbeing in 2022. The kind of stuff HR has been tasked with for years. 
Of course, many of these activities now need to happen virtually. For starters, attracting remote talent has to be done – you guessed it! – remotely. And anything that happens online, produces data. That's mostly a good thing: data tells stories. But data doesn't always give you the full picture.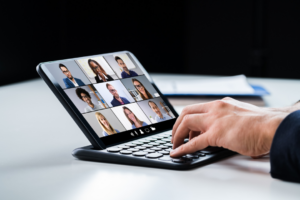 Businesses that rely on data alone get sloppy in their decision-making. If you're not checking your ATS, you could overlook unconscious bias. If you only collect self-reported productivity data, your employees could be unintentionally biased. 
With workforces distributed around the world, a simple performance review can include several pieces of software and several layers of data. 
Let's say a manager schedules 30-minutes with an employee to discuss performance, engagement, and anything else relating to the employee's experience over the past six months. 
The performance review is hosted on a video calling platform, recorded with a live transcription tool, and the transcript is saved in HR software, where both the team member and team leader can refer back to it. 
So. Much. Data. 
Taking back the wheel
See how easy it is to get lost in the sea of organisational data? To lose sight of what matters, in a plethora of noughts and ones?
If the data is driving you, it's time to take back the wheel. Here are some quick tips to take control of your data: 
For every byte, there's a story
Have you analysed the benefits software data, only to discover that no one is using the free gym membership? Guess you better take it off the benefits package! 
Or not. Every byte of data has a story behind it. Maybe your employees aren't using the gym membership because the locations are hard to reach, the equipment is out of date, or every time they go it's too busy. 
Make sure while you're collecting data, you're also conversing with employees. There's usually more to it than meets the eye.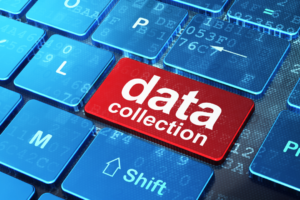 P.S: unconscious bias is real, and it's dangerous. Make sure you're reviewing decisions made by AI. Becauseyour ATS might be biased. 
Get an analyst in
Data analysts exist for a reason – it's a task that not everyone is capable of doing. Adding someone to your payroll is a hefty investment, so if you can't hire an analyst to manage your HR data, schedule some training sessions for existing employees who want to upskill. 
Don't risk making bad decisions based on poor analysis. 
Use structured and unstructured data
Structured and unstructured data tell different stories. If you're analysing employee productivity or engagement, or perhaps measuring sentiment about the company values, use more than one type of data. 
And combine it with conversations too for some extra credibility. 
Put it where it belongs
Listen here and listen good: don't collect data you can't store safely and securely. 
If you're not storing it properly, you're increasing the chances of theft, corruption, and data leaks. Ensure the software and systems you use have the proper protections and recognised security certification.
Enquire about using HRLocker in your organisation in 2023
Book a Demo